For all of us who have been through the different challenges of the pandemic, each of the stories will evoke your senses in its own way, notes Divya Nair.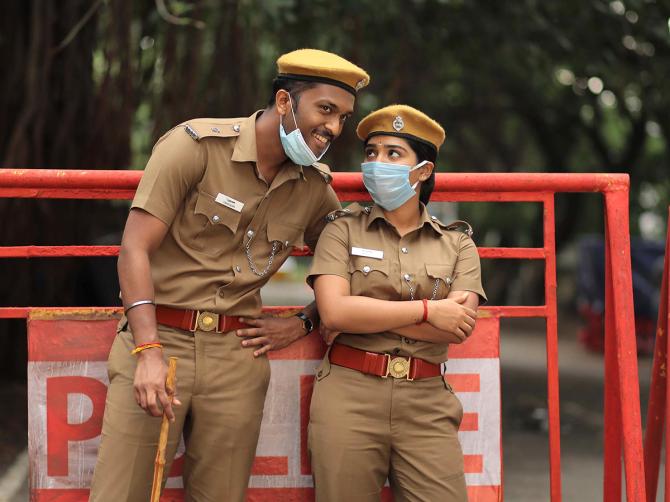 Putham Pudhu Kaalai Vidiyaadha (Waiting For A New Dawn), the second installment of the anthology Putham Pudhu Kaalai, may not have a fancy star cast or an impressive team of directors to pull you but it still promises to offer something new.
The anthology has five stories, all themed around the pandemic and lockdown.
In Mugakavasa Mutham (Kiss Over A Mask), two constables Murugan and Kuyili (played by Teejay Arunasalamrisk and Gouri G Kishan) risk an adventure to bring together a young couple and in the process discover their feelings for each other.
It's meant to be cute and entertaining, but can you digest so much sugar at once?
If you have watched 96 or Anugraheethan Antony, you'd perhaps agree that Gouri is too cute for anyone not to fall in love. It doesn't matter what the story is or who she is paired with. Her smile can light up the silliest of frames and her presence radiates a different positive energy.
Which is what shines and works for Mugakavasa Mutham as well.
As for the story, it is too bland even for the supporting cast to fall for, so just watch it while your brain takes a vacation.
Loners, directed by Halitha Shameem, features Nalla (Lijomol Jose in a fresh, young avatar, a huge transformation from her look in Jai Bhim), a young events professional who connects with Dheeran over a common virtual group.
While Nalla is dealing with a breakup, loneliness and joblessness, she helps Dheeran overcome the grief and loss of his best friend.
It's interesting how both of them find ways and reasons to comfort each other as they form an emotional bond that transcends beyond the boundaries of virtual walls.
Nalla casually talks about 'toxic positivity' and how the pandemic has turned people into buying and building stuff that have no future value. It makes us mortals wonder what makes Nalla so woke. Was it just the breakup or is there more to it?
Nalla is a strong and inspiring character but maybe it deserved more depth and screen time so we could connect to her ideas better.
Mouname Paarvayai (Unsaid Words) is one of the films I was really looking forward to.
Directed by Madhumita, it's the story of a middle-aged couple, Yashoda and Murali (played by Nadiya and Joju George).
From the start, we are shown that the husband and wife are not on talking terms. Yet, they go about their routine communicating with each other through non-verbal cues and expressions.
Now if you are married and have fought with your partner during the pandemic, you will relate to most bits of their cute and annoying nok-jhok.
The music and background score is delightful as well.
This was easily one of the best anthologies of the series.
The Mask, put together by Surya Krishna, is a casual reference to people living under a different identity.
It's the story of Arjun, an IT professional who struggles to tell his conservative parents that he is gay and committed to a serious relationship.
While hunting for a rented apartment, he gets a call from a school friend. After meeting up, they inspire each other to accept and face their realities.
Three years after Section 377 was quashed, I thought we finally have a regional/Tamil film embracing homosexuality.
But does it get the emotions right?
Does it have its heart in the right place?
Sadly no.
It just drags on till you realise that perhaps it takes a lot more than just the director and actors' intention to do a meaningful film.
This one simply loses the point and the plot.
Richard Anthony's Nizhal Tharum Idham (Comforting Shadows) is about Shobi, an introvert daughter (beautifully portrayed by Aishwarya Lekshmi) coming to terms with the sudden demise of her father.
She travels alone from Bangalore to her home in Pondicherry for the funeral.
Once home, she grapples with her memories, emotions and feelings as she revisits the incidents from her childhood that bring her closer to discovering her unexplored fears and insecurities.
The abstract reference of using dancers to showcase Shobi's state of mind is like watching live theatre for the first time.
You don't know what's really happening until you realise what it is trying to tell you.
Similarly, each character in the story seems disconnected in its own way.
Aishwarya's restraint and mundaneness keeps the character grounded till her final meltdown which may answer some of our questions.
From love and longing to grief and separation, each of the directors deserve credit for exploring different themes and emotions.
For all of us who have been through the different challenges of the pandemic, each of the stories will evoke your senses in its own way.
There is nothing vulgar or provocative and there is something in it for everyone, which makes it a family entertainer.
You can watch it with your family and feel lighter, and who knows it may even change your perspective, the way you look at situations and people around you.
The new dawn the film promises could come from you.
If nothing, it teaches us to be hopeful, gentle and kind to each other.
Putham Pudhu Kaalai Vidiyaadha is streaming on Amazon Prime Video.
Rediff Rating: