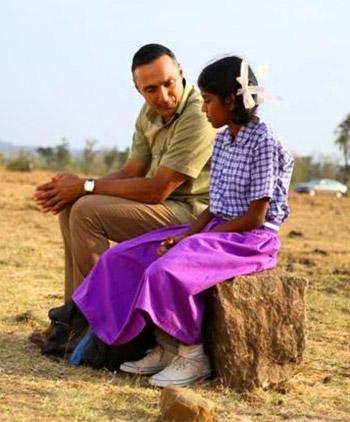 There is no escaping Rahul Bose's compassion. He wears it like a name tag in Poorna, feels Sreehari Nair.
In a video which has Rahul Bose talking about Satyajit Ray's Apu Trilogy, his hands assume Kabuki poses, his head stays intellectually cocked, and his eyebrows inch closer as if they were about to mate.
Bose is talking about the compassion and humanity in Ray's movies, and he pumps up the dramatics only so that we can feel what his heavy heart is truly feeling.
I thought I knew what Bose was feeling, but after watching his latest directorial effort, Poorna, I have to say I am not quite sure.
If Ray's humanity showed us how piety and wretchedness, good intentions and grand failures, and purity and corruption, can co-exist within the same individual, Rahul Bose has his humanity calibrated to the standards of advertising clichés.
His Poorna is inspirational, stirring and reflective, just as soft drinks are meant to be bubbly, detergents are supposed to be frothy, and insurance policies are expected to be pride-protecting.
What makes Rahul Bose's humanity also hard-to-miss is the added bonus that if you can't sense this humanity the first time around, it will be replayed for you in national language, almost immediately.
In what must be one of the most glowing examples of double exposition, Poorna has (and this happens throughout the movie) one character explaining his motivation to another character in Telugu and repeating the exact same line in Hindi the very next second.
Poor Satyajit Ray... if only his humanity could afford to be this inclusive!
The movie follows the true story of Poorna Malavath who, one month short of her 14th birthday, scaled Mount Everest.
It's the sort of material waiting to be transformed into a gladdening picture (the tribal girl from Telangana who so wanted to get away that she became an ant-like figure on the snow-clad mountains) only if Rahul Bose could pull it all together.
Bose, it seems, was left so misty eyed by the outlines of the story that he could only fill it up with his own tears.
While Aditi Inamdar who portrays Poorna has a face that lends her character the right mix of contortion and childish glee, Bose stepping in to play R S Praveen Kumar (Poorna's talent-spotter and propeller), interprets his character like a Kahlil Gibran devotee.
In reality, what made Praveen Kumar's contribution to Poorna Malavath's story such a warm enterprise was the fact that he saw her struggle as an extension of his own; their backgrounds matched and this gave his support for her an inherent toughness.
Rahul Bose, here, sliding his glasses over his nose, puts up a display of humility that isn't acted as much as it is assumed -- like a man inhabiting a trick-of-personality. He kind of gets the tunes, but not the bruised fingers that crafted them.
The picture sources the determination of its mountain-girl-champ from the relationship she shares with her best friend Priya (played by Mariya). In what are perhaps Poorna's only affecting episodes, you see the bond between the two girls develop over little taunts traded and wisdoms dispensed.
While the director and his writers constantly aim for the straight-up flashcard emotions, Aditi Inamdar and Mariya betray a more poetic understanding of their dynamic.
It's a dynamic we only share with those friends, who put us in touch with our unconscious -- ones with whom we compose gibberish rhymes and harbour wordless secrets, friends who can just look at us during the school prayer or the national anthem and make us giggle.
Those small scenes involving Priya and Poorna, where their impending marriages become a natural part of their kiddie-talks, are frightening reminders of these characters' everyday reality.
The girls act like they have their pinkies naturally wrapped around each other, but Bose and his writers clearly want more: By the movie's finale, they turn Poorna and Priya into cinematic soul-sisters. The little girls are made to croak for no fault of theirs.
There's one scene of terrific cinematic possibility, when a set of girls at Poorna's Social Welfare School sit down to play The Poverty Game, where they take turns to out-narrate each other's economic problems.
That scene builds but is trimmed away just before it hits its right pitch. The makers clearly have only 'Inspirational' on their minds, and anything tragicomic is quickly done away with.
Subhransu's cinematography is essentially a set of motifs making repeat-appearances, till we can finally shout, 'Okay, the Giant Rock as a Body. I get the metaphor!'
Aerial shots cut to kids running in slow motion -- these are the kind of visual choices a movie director comes up with when he sits down with his Director of Photography, clears his throat, and says with a passionate face, "I want something cinematic here. Can you give me something cinematic?"
There is nothing lyrical or kinkily expressive about a single frame in the movie -- it's all in damn good taste.
Three performers here exist only to make Rahul Bose's Praveen Kumar look good: Harsha Vardhan as the chief minister standing in for the confused state of our governance, Dhritiman Chatterjee who comically interrupts conversations to say nothing of significance, and Heeba Shah who can be seen mau-mauing through most of Bose's plans.
By the end, Rahul Bose the director shortchanges everything from our bureaucracy, to our politics, to our social structures, so that his kindness can shine through and make Poorna smile.
This movie is a perfect example of a city-bred director scanning our heartlands, and instead of taking in all the complexity, all the denseness, stopping to ask himself, "What are the corrections I can highlight in these lives, and how do I stitch together a narrative around these corrections?"
Something like Thithi showed us what happens when the cryptic, the primitive, and the tribal aren't broken down by an urban eye, and they're documented like poetry. That movie made our senses swim.
Here, Bose empowers a rural-child to say stuff like, "Sir, a great mountain deserves a great climber."
There is clearly no escaping Rahul Bose's compassion. He wears it like a name tag.
Rediff Rating: