'PadMan has its premise in place. Now if only it had some wings,' says Sukanya Verma.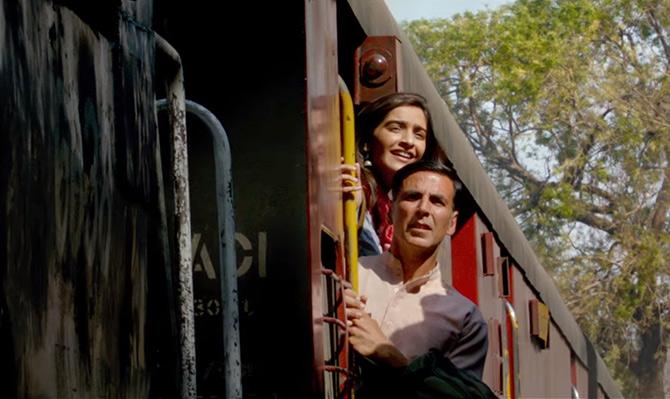 IMAGE: Akshay Kumar and Sonam Kapoor in R Balki's PadMan
Akshay Kumar is a man on a mission.
Most of his acclaimed work in recent times involves him taking up a cause that'll enrich society or whip up nationalistic fervour.
There's an obvious enthusiasm in him to play characters taking a morally high ground. And while it is advantageous to spearhead significant subjects, a monotony of earnestness has set in.
In the R Balki-directed PadMan, Akshay is back to playing a considerate husband fighting provincial mind-sets and social taboos. Only this time creating a disposable sanitary pad -- not toilet -- occupy his unwavering attention.
His Lakshmikant Chauhan is a man of exceptional sensitivity and ingenuity. Something his young bride, raised on orthodox, old school beliefs can neither understand nor appreciate.
Where most actresses wouldn't rise above annoyingly regressive, Radhika Apte imbues her character's embarrassment and irritation with a heartfelt understanding of a woman caught between her cravings for comforting conventionality while faced with boldness beyond her grasp.
She is like as her husband complains, 'Rani Mukerji ke zamane mein Devika Rani ki dialogue bol rahi ho.'
The other women in his life -- his elderly mother and three sisters -- aren't allowed such complexity. They are little more than scandalised, scampering, bunnies every time Lakshmi appears before them flashing a sparkling white pad in hand.
Undeterred by his family's disapproval and social ostracism, Lakshmi endeavours to discover the mechanism behind a serviceable pad in a manner that looks unexpectedly comfortable and pleasant on screen.
Scenes where he is sitting by a pretty pond encircled by frangipani flowers and heaping cotton wads on fresh green leaves are filmed in a curiously delicious manner (by P C Sreeram), as though he's packing tiffin of steamed idlis. Nor has receiving free samples of materials from overseas suppliers ever looked more at the snap of a finger.
Although the treatment is understated if compared to Toilet: Ek Prem Katha, its feminist hero ethos -- Ek aurat ki hifazat mein nakamiyab aadmi apne aap ko mard kaise keh sakta hai? -- are almost identical.
Menstruation is seldom a part of our conversation in the movies. And PadMan scores for highlighting the shocking disregard for menstrual hygiene as well as unjustified steep pricing of means that offer protection from the same a lot more effectively than last year's Phullu.
What PadMan is aiming for is admirable and a genuine concern, but it isn't always above the missteps common to most films of the meaningful genre.
In the beginning, it adopts a largely logical approach at the rampant problem. Save for the 'Test match' slur, not much is dwelled upon the absurd superstitions associated with menstruation, an outlook that is prevalent among the educated and privileged lot as well.
Instead, PadMan's energy is directed in documenting Lakshmi's journey and experiments into a fairy-tale triumph replete with Balki regular Amitabh Bachchan's blessing and all.
To Balki's credit he presents these technical pursuits with enough excitement to sustain interest.
There's a recurring parallel in the visuals of Hindu Gods like Hanuman and Krishna as coconut and Prasad vending machines of religious expectations next to Lakshmi's socially frowned engineering, which subtly conveys the challenges of introducing practical methods in a deeply convoluted network of obsolete beliefs.
It is inspired by the true story of Coimbatore's Arunachalam Muruganantham and his award-winning invention, one that not only offered functional, economical sanitary napkins but also empowered women as means to earn an independent livelihood featured as a fictionalised short story in co-producer Twinkle Khanna's The Legend of Lakshmi Prasad.
PadMan dramatises his reality to accomodate romance and distinction with a calculation that is one of the weakest aspects of an otherwise constructive narrative.
Serving as catalyst to this purpose, Sonam Kapoor contributes with her sartorial elegance and appears at home in her character's urban, rational and humanitarian sensibilities. But Balki's need to complicate her platonic equation with Akshay leaves the viewer both confused and distracted.
The big speech at UN to follow, a cheap imitation of Sridevi's, from the director's better half Gauri Shinde's English Vinglish, rechrishtened Linglish here, single-handedly demolishes everything Akshay's carefully calibrated performance has worked for.
It's one thing to come out great and entirely another to claim it. 'Mad only become famous,' he stresses in a monologue reeking of 'Look, how socially conscious I am.' The affectation is conspicuous and disappointing especially when even the blood stains on his pants seemed more sincere.
For all its worth, PadMan has its premise in place. Now if only it had some wings.
Rediff Rating: