Out of Love 2 is even more interesting than the last season, applauds Moumita Bhattacharjee.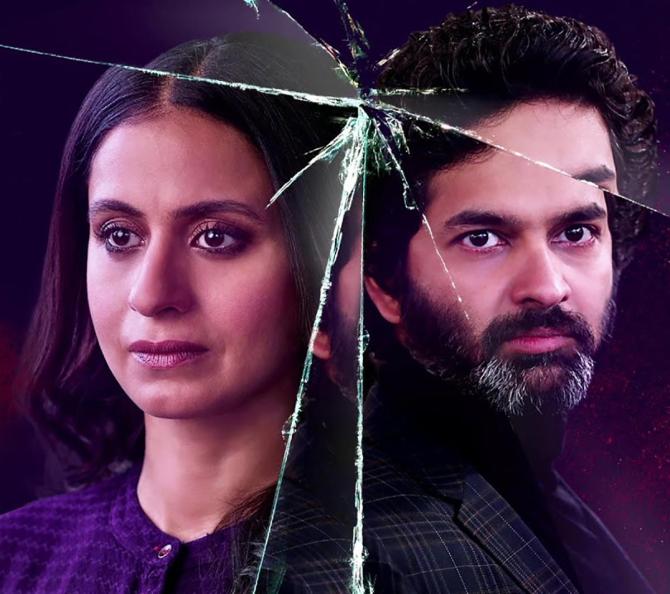 Note: This review is based on only two episodes were made available for review purposes.
The first season of the Web series Out Of Love was about catching her husband having an affair with another woman.
It does turn sinister and with that climactic dinner scene, all hell breaks loose.
The second season picks up the pieces after three years and it turns out that nothing much has changed.
In fact, the stakes have gotten higher, making it even more interesting than the last season.
Akarsh (Purab Kohli) has returned to Coonoor three years after he was caught by Meera (Rasika Duggal) having an affair.
He has moved out and Meera has moved on.
She is finally settling in her life with her son when Akarsh returns and wreaks havoc.
He wants her gone from Coonoor for good and she just won't.
Thus begins the games and manipulations.
An Indian adaptation of the British drama Dr Foster, the first season of Out Of Love revolved around how Akarsh was caught and how he continued to deny it.
Later, he even tries to defend it.
The second season focuses on what's next and gets to the point immediately.
In the first two episodes, the motive has been established and all the characters have chosen their sides.
Meera was shown reticent in the first season, but circumstances have made her strong.
While she took her time to explode in the previous season, she doesn't lose any time here.
The story by Preeti Mamgain, Rajesh Chadha and Eisha Chopra never let the momentum drop, which is great given the fact that Out Of Love isn't a pacy thriller.
It has its own rhythm and that's what adds the charm to it.
The regulars of the last season are back, like Harsh Chayya and Suhaas Ahuja, but not much has been added to their characters. Perhaps they will add meat to the situations that will unfold in the rest of the episodes.
Out Of Love is a Rasika Dugal show for sure, but the devilish Purab Kohli is just so impressive.
Very rarely have we seen such conniving and clever characters and that makes him even more interesting. Also, the character has been written really well.
He still has no remorse for what he has done to Meera and his son.
The way he dodges her every time she questions his behaviour for the fallout is amazingly portrayed.
Rasika Dugal obviously is fantastic.
The quiet strength of hers in the first season has transformed her into a woman, who doesn't wait her turn to strike.
She does what she feels is right for her and her son.
There's no unnecessary melodrama or pointlessly long monologues. Just enough for the story to unwind and unravel.
From what I have watched, Out Of Love 2 looks like a sequel that outperforms the predecessor.
Rediff Rating: