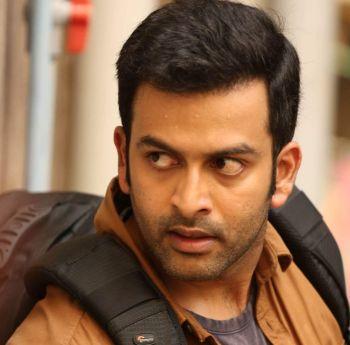 Oozham ends up being a mediocre film though it tries to be a lot more, says Paresh C Palicha.
When one of your films has created history at the box-office, you are always under pressure to repeat that kind of success every time you make a new film. You can sense that kind of pressure while watching Oozham with Prithviraj in the lead. I am talking about Drishyam and its director Jeethu Joseph.
It feels as if every frame of this film is saying that this should be better than Drishyam (2013). In Drishyam, a virtually illiterate man takes on the powers that be to protect his family. Here a youngster uses his technical knowledge to avenge the murder of his family.
It is such a simple thread but the director (who has also written the script) makes it so convoluted that after a while you start wondering where it all began and where it was headed.
Surya (Prithviraj) is a decent Tamil boy who has studied controlled explosion and is now working in the US. His father Krishnamoorthy, played by Balachandra Menon, is an upright government employee who works as the health inspector in Coimbatore. He is a workaholic who cannot think of anything beyond his work.
We enter the story when his daughter's engagement is fixed and his elder son Surya has also landed there to attend the function. Krishnamoorthy is shown as a strong and principled man who would take a loan for his daughter's marriage but would not let his son to share the burden. This kind of a portrayal of a father is a bit hard to digest
The other thing that strikes you is the fact that he is a top-notch humanist who has adopted a Muslim boy Ajmal (Neeraj Madhav) from the neighbourhood when he was orphaned as a child.
Now, Surya helplessly sees his family being annihilated by a group of people through his webcam. He decides to take revenge.
Ajmal (a software expert who is interested in ethical hacking) and his flame played by Divya Pillai are there to help him.
On the other side is a pharmaceuticals baron played by Tamil actor Jayaprakash. He supplies contaminated bottled water and packed food for the growth of his medicine business.
The director takes the non-linear route to tell his story. It begins with our hero taking on a bus load of uniformed professional killers. Then we return to this action sequence once in a while and go into flashback piecing together Surya's story.
Initially we sit tight in our seats expecting something very gripping to happen but nothing of that sort happens. The narrative moves on an even keel without any bumps or suspenseful twists. The bad guys are too suave and soft-spoken to scare us or even give us goosebumps.
Prithviraj does nothing in the film that will elevate his stock as an actor. He has to be the good boy next door, and he does so with ease. Neeraj Madhav as the goofy younger sibling is just his usual self. Balachandra Menon, an old man with a lot going on in his mind does create a mystery around himself.
Oozham ends up being a mediocre film though it tries to be a lot more.
Rediff Rating: