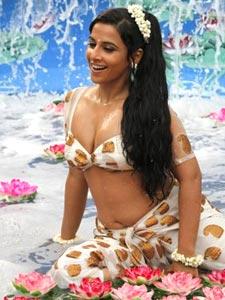 Sukanya Verma writes the opening track of The Dirty Picture is the album's only star.


Buxom is back.
Marking the return of provocative imagery with Vidya Balan heaving a sigh of sex and appeal in all her voluptuous glory,
The Dirty Picture
aims to recreate the era of flesh-obsession in Indian films during the 1980s.
Directed by Milan Luthria (
Kachche Dhaage
,
Once Upon a Time in Mumbaai
),
The Dirty Picture
has piqued widespread interest ever since  it was revealed to be an unofficial biopic around the life and upheavals of Southern sex symbol Silk Smitha. Produced by Ekta Kapoor, the cast is an assorted mix of actors ranging from Naseeruddin Shah to Emraan Hashmi and Tusshar Kapoor.
Considering Silk Smitha's legacy of upfront sexuality,
The Dirty Picture
bears the difficult task of providing a potent portrait of the exploited, lonely individual under the flamboyant exterior while drawing the delicate line between tantalise and titillate. But with Balan, one of the most balanced actresses of this time, at the helm there's reason to feel optimistic.
Too bad the soundtrack composed by Vishal-Shekhar against (also the film's scriptwriter) Rajat Aroraa's lyrics doesn't come anywhere close to living up to its promise or potential.
It starts out with enough aplomb though. The super infectious retro beats of
Ooh la la
replete with all the jhatkas, matkas, jhankaar beats, overzealous panting and Bappi Lahiri-Shreya Ghosal's enthusiastic delivery instantly transports you to those outlandish times when Jeetendra and Sridevi/Jaya Pradha danced atop giant-sized drums while Holi colours and fifty odd dancers exploded all over the screen. And for once the deliberately corny lines '
Chua jo tune to, dil ne maari ceeti. Dede in gaalon pe ek pappi meethi, meethi
,' makes perfect sense.
Bappida's gusto is both an inspiration and advantage to
Ooh la la
,
which resembles his fervor in more ways than one resulting in the best track of the lot. The Dhol mix, however, is nothing more than a sorry effort to Punjabise an already rollicking number.
And with
Ishq sufiyana
we enter the prime territory of Rahat Fateh Ali Khan. The song wears a familiarity akin to the fervor of
Tum ko aaye zindagi
(
Once Upon a Time in Mumbaai
),
Aaj din chadeya
(
Love Aaj Kal
),
Tere naina
(
My Name is Khan
) or
Aas paas khuda
(
Anjaana Anjaani
).
Ishq
, rendered efficiently by Kamal Khan and Sunidhi Chauhan, in a solo avatar each, is breezy but predictable. Only I believe that the flamboyant and spontaneous
Ooh la la
deserved a much better follow-up than that.
Vishal-Shekhar channels the best of Bappi and BoneyM to rustle up the disco-themed razzle-dazzle of
Honeymoon ki raat
. And partially succeeds. At an emulating level, the duo does a good job but don't support their interpretation of the bygone genre with enough ingenuity to break new grounds. To Sunidhi's credit, she imbues her brand of spice and spunk to Aroraa's dishy, innuendo-packed lines without making it in-your-face.
Nursery rhymes will never be the same again. Children's poems serve as muse to Aroraa to dole out stuff like, '
Twinkle Twinkle dekho mein little little star ban gayi. Jack and Jill ko bhi mere naam ki chadh gayi. Humpty ghayal hua. Dumpty pagal hua. Johnny ka baba bhi mujhpe kayal hua
.' While Shreya Ghosal does a smash job of dispensing raunchy, Rana Mazumder does the best R D Burman impersonation we have heard in a while. The latter's work,
Yamma yamma
from Shaan in particular, also appears to be the inspiration behind
Twinkle
. Again, the lyrics not the music act as the real star of the enterprise.
That's pretty much the lowdown on the soundtrack of
The Dirty Picture
. Barring the opening ditty, it doesn't have much to ooh or la la about.
Rediff Rating: