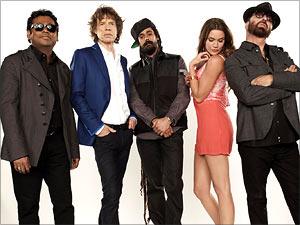 So it's finally here. Sir Mick Jagger's supergroup Superheavy, featuring the legend himself along with AR Rahman, Dave Stewart, Joss Stone and Damian Marley, has its first self-titled album out. Is it any good? Do they all show up as often? Or is it just The Mick Jagger Fusion project? Read on for my first impressions:

What we learn from the title track is that Superheavy sounds much better without the H. "Supa'eavy" is all Damian Marley, the reggaeman shining even as everyone else in the group gets a turn in the spotlight. Stone is a trifle too aggressive, while Rahman warbles across multiple layers with mesmeric grace.

Up next is Unbelievable, kicked off by Sir Mick singing along to a repetitive synth-guitar loop that would fit right into an 1980s Bollywood dance. Other voices appear and the song is made funner by Ms Stone's crooning, but this remains an unspectacular track despite Rahman vocally insisting on its "kamaal".

We've heard Miracle Worker before, a track where Jagger has a blast with the strangely serpentine lyrics -- "my loving laser will regenerate your heart" -- and it's fair to call it the kind of track that works better with each listen. It's shinily produced pop, sure, but it fits just right.
Energy starts off almost industrially, Marley throwing out words about anti-oxidants with fierce urgency before Stone and Jagger take it on a more conventionally balladic route. Sir Mick raps too, but that feels a bit strained and it's the choral bits between him and the girl that work strongest here.
Satyameva Jayate is a definite standout track, Rahman taking the obvious lead while Stewart presumably constructs a soundscape disparate enough to give each collaborator enough room to let their vocals dance. And the joy with which Jagger leads the chorus makes this one special.
Jagger's wailing is feline in One Day One Night, a tired old tomcat singing about a bottle of vodka. It's old school, whiskey-jazzy and works brilliantly by itself before Marley comes in to sing about a spliff. It is with songs like this, clearly individual tracks forced into becoming duets, that Superheavy stumbles the most, despite the talent clearly on display. By the end of the song, as the rock gets heavier and Stone powers through, the sound is but utterly unrecognizable -- and, smitten by the lazily simple way it began, I doubt the metamorphosis was as necessary.
Jagger Never Change smells far too strongly of Rod Stewart (specifically, of the classic Handbags And Gladrags) but Mick's voice has always been a safe bet for this sort of melancholic love song. He guides the simple, slightly cloying but well-written track strongly, and, thankfully, no visitors cut in.
Stone sounds delicious on Beautiful People, breathy-whispery and over-layered. Jagger's around and having a fine time, as is young Marley, invoking "Spida'Man, Peter Parker" the best possible rhyme for "New Yorker." But this is Stone's show all the way, a chorus of her own voices backing up for her lead vocals. The individual bits work very well here, but it adds up underwhelmingly. It ends up oddly unsatisfying, too much finger-canoodling with no climax in mind.
Rock Me Gently is where Marley gives his hyperactive tongue a rest and sings casually, unhurriedly, beautifully. Stone provides lovely backup, and this ends up a fine albeit unmemorable track, at least on first listen.
Things get louder on I Can't Take It Anymore, a punchy pure rock track that would sound Scorpion-y were it not for Jagger calling politicians "scurvy" and often vocally bringing up ghosts of legendary never-buried songs. Politely speaking, it's ordinary.
I Don't Mind is a pretty Stone/Jagger duet somewhat let down by the lyrics even as both vocalists are both tender and playful. The repetition here -- "shimmering, shimmering, shimmering", "gathering, gathering, gathering" -- works nicely, but Marley ends up owning the track with a bravado-filled turn, especially nailing a line that rephrases Dave Stewart's Eurythmics hit Sweet Dreams with clever savagery: "sweet dreams are made of me and who are you to disagree?" Very cool.
World Keeps Turning tries far too hard to be an anthem to actually be enjoyable, but the quintet is soon galvanized with Rahman's turn at bat. Or, rather, dhol. Mahiya evolves constantly, ARR spinning the simple words around over and over, dervish-like, while Stone croons softly through a desert soundscape. It ends, however, just when most interesting.
Warring People is up next, an ambitious song kicked off cracklingly with Rahman wondering about "kaun haara kaun jeeta" and soon turned to well-intentioned malarkey with Jagger's pedestrian English lyrics. This band needs a writer.
Common Ground is a tremendously enjoyable song you deserve to discover on your own, and the album's finale, Hey Captain, packs more of a wallop than expected.
As with all supergroups, there's a lot of potential -- and a lot more posturing. Jagger is clearly the band's leader, despite it apparently being Stewart's idea, and Rahman, while frequently stunning, occasionally gets trapped in exotic-India mode. This is a great showcase for Stone, however, as it is for Marley who comes to the fore effortlessly. He might not be the one with the biggest fanbase in this bunch but, if this debut album is any indication, he soon will be.
This first album has a few songs too many and is not as special as it should be, but as a supergroup's first outing, this quintet has a distinct musical identity. They might not be super just yet, but they're pretty heavy alright.
Rediff Rating: