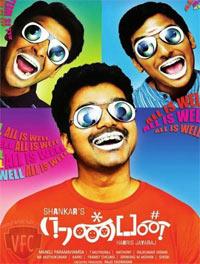 Pavithra Srinivasan feels Tamil film Nanban's music is like a old wine in a new bottle.

The music of the most anticipated film of 2012 is out: Gemini Film Circuit's Nanban, the Tamil version of the Hindi blockbuster 3 Idiots, directed by Shankar.

Vijay, Jiiva and Srikanth play the three protagonists, while Ileana is the heroine.

Harris Jeyaraj takes up the musical reins.

The album kicks off with a bang: En Friend-ah Pola, sung by Krish and Suchith Suresan begins with whistles and a steady beat, and progresses in a slow, measured fashion. Despite efforts to make it different, shades of Mustafa Mustafa are easy to detect, but it has its appeal.

Na Muthukumar's cheery Heartilay Battery seems to be the signature song of the pack: it carries the tagline 'All is Well' and starts off irreverently enough. Hemachandran and Mukesh pick up the vocal reins and deliver a peppy song, even if it doesn't exactly rise to scintillating heights.

Tried and tested tunes make up Ask Laska, in which Karky has penned the word for love in sixteen languages. It's a romantic duet by Vijay Prakash and Chinmayi with a rap element by Suvi. Easily the pick of the album.

Some light-hearted humming by Aalaap Raju sets off Endhan Kan Munne although Karky's lyrics seem to suggest anguish. You've heard such songs before.

There are shades of Rangola and Vennilave Velli Velli Nilave in Irukkaanna, but it is a more sophisticated kuthu song, extolling the merits of Ileana's curves. Vijay Prakash, Javed Ali and Sunidhi Chauhan have come together to deliver this number, which has lyrics by Pa Vijay.
Nalla Nanban
sung by Ramakrishnan Murthy with lyrics by Na Muthukumar, is a paean to true friendship but it's a pretty syrupy song, with its veena interludes and divine choir effect.
Harris Jeyaraj has obviously taken the safe route, sticking to his usual template for most of the songs in this album.
Rediff Rating
: