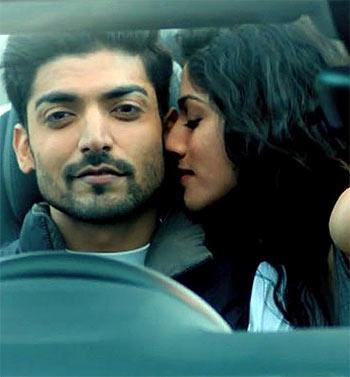 Khamoshiyan's music can be heard on a loop, feels Joginder Tuteja.
For a film that has been written and backed by Vikram Bhatt right through its making, the music of Khamoshiyan has to be nothing less than very good. Especially when Jeet Ganguly and Ankit Tiwari are the composers with Naved Jafar roped in as well.
Veteran Sayeed Quadri and the upcoming Rashmi Singh are the lyricists.
The album gets off to a superb start with the man for all seasons, Arijit Singh's title song Khamoshiyan. This romantic song has a pleasant feel and maintains a good pace throughout.
There is an unplugged version towards the end of the album, which is good, but one wants to hear the original track over and over again.
Better than the title track is Tu Har Lamha, by Arijit. The rendition is heartfelt and the lyrics are simple yet effective. Tu Har Lamha is a winner in both its original as well as remix version.
Arijit Singh scores a hat-trick with Baatein Ye Kabhi Na. It reminds of one of the songs in Aashiqui 2, with its themes of love, separation and longing.
This and the female version by Palak cater to the taste of those, who love old fashioned Bollywood melodies.
Remember the title song in Raaz - The Mystery Continues? The eerie, haunting and suspenseful feel of that song is created by Naved Jafar in the next track, Kya Khoya. It makes for good listening.
Ankit Tiwari's Bheegh Loon Main fits into the setting of the album. Though it is a sensual song, it doesn't turn its back on the haunting mood of the album.
The song is repeated thrice, with Prakriti Kakar going solo for her two versions (solo and then remix). It does rather well, but doesn't really go all the way as many other Ankit Tiwari tracks have done.
The music of Khamoshiyan is consistent, with Tu Har Lamha/Subhan Allah and the title track Khamoshiyan worth listening to again.
Rediff Rating: