A Vishal Bhardwaj film is an event, and Vishal's soundtrack for it is even more of a milestone. Very few composers have crossed over into direction and very few directors meddle with their tunes themselves, and Bhardwaj, exceptional by any standards, seems to think with his ear as he pushes forth songs that are intricately a part of his storytelling and his visuals.
Kaminey, Bhardwaj's latest, marks a departure from both Bard and bachchas for the auteur, which is phenomenal news for music lovers as it lets the man really get into an edgy, whimsical and inflammable space. For this is a soundtrack ticking like a bundle of dynamite. And the matches are held by a poet named Gulzar, who seems to save up his best barood for Bhardwaj.
Things blast off with the insanely catchy Dhan Te Nan, and its awesomely volatile. The intro starts off with single-string guitar plucking, derived in style from Dick Dale's single guitar classic Misirlou used so iconically by Quentin Tarantino in Pulp Fiction, and then goes on to become its own original, throbbing beast. And this monster's a playful one, Gulzar tickling its toes with fantastic wordplay throughout, from good-luck and gullak to khabrein and kabrein, literally headlines and headstones. Sukhwinder Singh and Vishal Dadlani provide the vocal muscle, and do so with evident glee.
It's a punchy track that instantly gets under the skin, amply whetting the appetite, and while Gulzar enjoys writing mad lyrics (til til tara mira teli ka tel), he balances them out with magically loaded lines about seas and cities flowing under one's feet.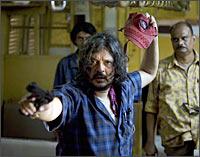 Appropriately moist is the next track, Pehli Baar Mohabbat, the album's only ballad. Mohit Chauhan -- now best known for the fabulous Masakali -- does a good job with the vocals but somehow one can't help thinking just how much better this would have sounded in the composer's own voice. In fact Vishal seems to be content rotating the strike with this one, letting Gulzarsaab play the flashier shots. And when you hear wonderfully evocative words about sitting under a Peepal tree eating peas already tasted by squirrels, you know Cap'n Bhardwaj's made the right call. A lovely, lovely song.
The shehnais are trundled out for the languorously sexy Raat Ke Dhai Baje, sung by Suresh Wadkar, Kunal Ganjawala and alternating between the voices of Rekha Bhardwaj and Sunidhi Chauhan so seamlessly it momentarily seems there's a new super-singer in town. Like the last one, this song talks about being half-awake half-asleep, and being set at 2.30 am just means there's a lot of room for innuendo. It sounds markedly un-Vishal to begin with, but the track shimmies through different styles like a bellydancer shaking off some fives to make room for some twenties.
Fatak is one of those wonderful sounds, and its a wonder nobody's used it as a song before. Like a whip, the word cuts through the minstrel-style dual vocals by Sukhwinder Singh and Kailash Kher, bringing us back to point as if making a song consisting of lots of back to back jumpstarts. The words are filled with abandon, and you can see Gulzar grin as he audaciously tosses the fear of AIDS into a classic Mirza Ghalib sher. The rhythm rules the track, as it fancifully jumps from rap to duet, that snappy 'fatak' holding it all in place.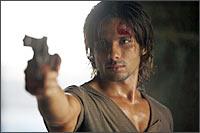 Which brings us to the biggest stick of TNT in the bundle, the glorious title track, Kaminey. Bhardwaj tackles the vocals with his trademark soulful style, imparting heavy-hearted world weariness to some of the finest lines Gulzar's ever written. It's a tough word to make poetic, but Vishal and Gulzar have appropriated Dharmendra's pet insult and turned it into a silken word for betrayal.
The words are phenomenal -- 'meri dastaan, kameenee; mere raastein, kaminey,' sings Vishal, sloppily translated as 'my story is a scoundrel, my roads are scoundrels,' before the irresistible chorus, 'Ik dil se dosti thi, yeh hazoor bhi kaminey' ('I only befriended my heart, but he too is a knave.'). And as if this wasn't enough, the lines between the choruses soar through extreme poesy as we hear tell of the moon in a birdcage and a lantern hung among the stars.
Kaminey is a track to trip on, a track of heartbreak and lies and hopelessness and, invariably, hope -- for while he might call the whole word a rascal, the protagonist trudges on, still daring to dream.
Next up is the film's theme, a track called Go Charlie Go, a saucy yet muddy jazz interlude that builds up an entire tune before modestly giving way to the Dhan Te Nan for a bit. Picture guns, russian roulette, gamblers, smuggling, informers, crooked cops -- close your eyes and let the spirit of 1970s noir take over.
Then come the remixes, and they're a pair of keepers. The Dhan Te Nan (Remix) dials the madness down into potentially loungey shoes, making it the sort of song you'd listen to while cruising the streets by night with the car windows rolled all the way down. Somehow, this version has a colder, darker vibe than the original. The Raat Ke Dhai Baje (Remix) will work on dancefloors, to say the least, and become mandatory on wedding sangeet playlists for the next few years.
Phew. That's a helluva smorgasbord, and Bhardwaj has delivered a soundtrack that is lethally explosive. Not that we expected anything less. And trust Gulzar to artfully craft a really long fuse for the Kaminey bomb, making sure the tracks stay afire long before and after they actually go boom.
Rediff Rating: