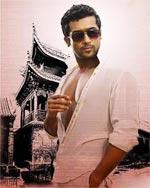 Pavithra Srinivasan feels 7aum Arivu' s music imitates rather than innovates.
Post YOUR reviews here!
Director A R Murugadoss's
7aum Arivu
(The Seventh Sense), produced by Red Giant Movies and starring Suriya, is possibly among the most anticipated Tamil movies of the year. With music composed by his favourite, Harris Jeyaraj, here's a listen at what this hit-duo has to offer:
In typical Harris fashion,
Oh Ringa Ringa
begins with a strong voice humming with tribal overtones, before switching over to rap. The song sounds overwhelmingly like the A R Rahman hit
Taxi Taxi
. The tribal feel carries on throughout with its steady beat as Roshan and Jerry John pitch in while Benny Dayal and Suchithra provide additional voices. Pa Vijay's lyrics are strictly functional.  Other than the thumping beats, nothing seems to be going for this song.
Mun Andhi
kicks off with a melodious whistle and a female voice humming. Karthik takes up the song with his usual fluidity to Na Muthukumar's romantic lyrics and Megha's accompaniment. A mildly pleasant number that reminds one of A R Rahman's early romantic compositions.
Vijay Prakash, Karthik, Shruthi Haasan (her western-music tinted voice intact) and Shalini join together in Yellae Lama, enthusiastically yelling at full-pitch
at times with a brief flute interlude. This does grab your attention in the beginning, but then descends into mediocrity. 
Yemma Yemma
starts off on a sober note; this time, it's veteran SPB who picks up the vocals. Shades of Anjala from Vaaranam Aayiram peek through occasionally. The simplicity of the song, Kabilan's lyrics, and its pace are very appealing. Swetha Mohan hums through the interlude, and the soothing melody continues. A very appealing number.
Innum Enna Thozha
appears to be the rousing "let's-win-the-world" song, rendered by Balram, while Naresh Iyer pitches in as well. Pa Vijay's lyrics are certainly inspiring enough but only towards the end does the emotion get through.
The Rise of Damo
(Mandarin), sung by Hao Wang and penned by Karky, is so simple that it sounds almost like a nursery rhyme, and therein lies its appeal.
It looks like Harris Jeyaraj has run out of steam. While
Yemma Yemma
and
The Rise of Damo
are appealing, the rest sound like he remixed some of his own older numbers, or chose to be inspired by other classics. Perhaps the picturisation will add more appeal to the songs.
7aum Arivu's
music does have its moments, but these are few and far between.
Rediff Rating: