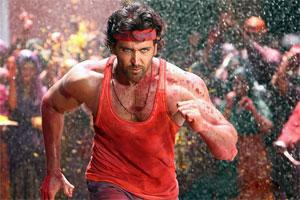 Sukanya Verma writes that for starters, the new Agneepath soundtrack is better than the Amitabh Bachchan original.'

V

ijay Dinanath Chauhan, poora naam. Baap ka naam Dinanath Chauhan. Gaon Mandwa...'

They say golden words should not be repeated. But the current trend to remake popular films has no regard for this old adage. So these memorable lines uttered by Amitabh Bachchan in an especially unique baritone, are all set to become Hrithik Roshan's catchphrase in Karan Johar's remake of Mukul S Anand's

Agneepath

.

If the latter was a stylish take on the raw, unflinching emotions of a wronged boy-turned-bitter man, relying on Big B's punches and kohl-lined charisma to make its point, the adaptation, directed by debutant Karan Malhotra, strives to be a high-voltage entertainer high on a brawny hero (Hrithik Roshan), demure heroine (Priyanka Chopra) and a visibly creepy villain (Sanjay Dutt). Not to forget

Chikni Chameli

-- Katrina Kaif's spicy input is bound to set the advance box office jiggling.

As for the song itself, a Hindi version of composer Ajay-Atul's hugely-popular creation Kombadi Palali (from Marathi flick Jatra), Chikni is bouncy enough but lacks the spontaneity and dynamism of the original. Also, anyone familiar with Kombadi from its inception is bound to frown on its reproduction, even if the music director remains unchanged.

I, for one, disliked how they've diluted the original's recurring pum pum pum riff to accommodate a more refined percussion. Nevertheless, lyricist Amitabh Bhattacharya's wicked wordplay and Shreya Ghosal's saucy delivery do their best to keep its listener engaged.

O Saiyyan captures the sublime consummation of romance under Roop Kumar Rathod's rich, soothing rendition. While Bhattacharya's verse is pretty, in a showoff-ish way, it's not necessarily free flowing. What works for this emotional melody is how Ajay-Atul (also responsible for the soundtrack of Singham) opts for a restrained arrangement, often inspired by the Shankar-Ehsaan-Loy

meets A R Rahman school of thought, allowing Rathod's insightful voice to take centre stage.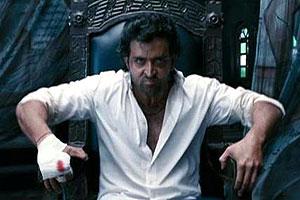 To break the composed tempo of the previous track, Sunidhi Chauhan and Udit Narayan break into Gun Gun Guna, a song about brightening up a loved one's mood. And to achieve the same, Bhattacharya draws up some fond imagery with fun lines like Tu chup rahe toh mano behri lage zindagi. Tu bol de toh parde kaanon ke khulne lagein. Gun Gun's upbeat temperament and spunky delivery by its proficient playback singers succeed in generating a general air of feel-good.  
Up next, there is Shah Ka Rutba, which sounds more Khuda Gawah than Agneepath. An elaborate play of rubab and tablas along with other potent instruments matches the high-pitched, bombastic fervor of Sukhwinder Singh, Anand Raaj Anand and Krishna Beura's tenor of this semi-qawaali.
The album enters a dramatic mood shift when Sonu Nigam hits a silvery note to muse over the philosophy of life and its many challenges in the sentimental poetry and easygoing pace of Abhi Mujh Mein Kahin. Nicely done, Ajay-Atul.
Ajay's devotional zeal combines the street style frenzy of Ganeshotsav festivities to produce Deva Shree Ganesha. Even so the track's moment of triumph comes in its closing verse with a feverish rendition of Ghalin lotangan by its compelling, committed chorus. And in all likelihood, should translate into a magical moment on big screen too.
Agneepath, the 1990 one, except AB's rendition of his father Dr Harivanshrai Bachchan's intense poem, didn't have a spectacular soundtrack. In that regard, the new one is quite an upgrade. How promising is that?
Rediff Rating: