'This 100-minute film just doesn't entertain you for even 10 minutes,' complains Joginder Tuteja.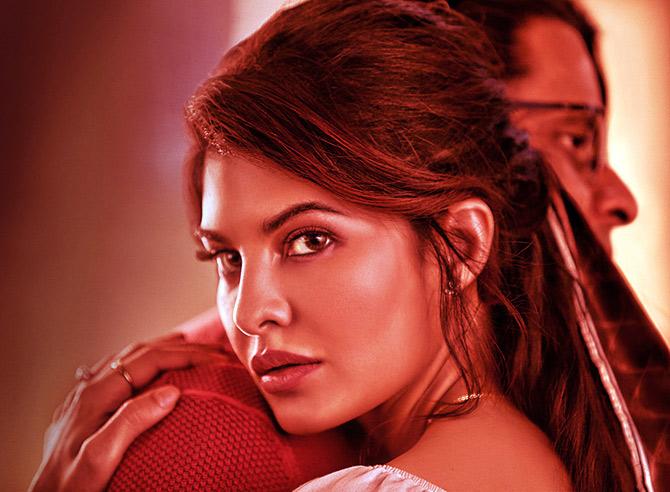 'Par comedy kahan hai?' asks an exasperated Manoj Bajpayee when Mohit Raina tries to explain a series of events that led to their meeting in the unlikeliest of places.
'Wait, I will tell,' reassures Mohit even as he goes through various levels of drama, thrills, action, romance and more, leaving comedy for the end.
This could well be the emotion of the audience as well as they wait patiently to figure out something more than what they knew right at the onset.
After all, the film begins with the unveiling of murders of 'unwed-to-be-mothers' in the sleepy town of Nainital. They are not just murdered, even the foetus has been artistically fleshed out and stored in jars.
All of that could well have led to something like a True Detective in the offering by film-maker Shirish Kunder.
However, the very first shot when Jacqueline Fernandez arrives on screen, you know that the treatment here will be filmi.
Yes, the idea is to make Mrs Serial Killer look like a quirky thriller, something that will mix elements of black comedy and thrills.
Unfortunately, this 100-minute film just doesn't entertain you for even 10 minutes.
Not that it doesn't have flashes of brilliance.
Check out that sequence where Jacqueline chases her prey (debutante Zayn Marie Khan) in the bylanes of Nainital, only to see the tables reverse after a bout of taekwondo.
The best comes soon after, when they find each other in the fields in the dead of the night.
One has to acknowledge the fantasy world created here with the action sequences done so artistically.
The same holds true for the background score that shifts between the song Roshni Se (Shah Rukh Khan and Kareena Kapoor Khan's Aśoka) and that chilling theme sound from Alfred Hitchcock's Psycho.
The cinematography by Ravi K Chandran and Kiran Deohans is striking, especially for a setting like this where most of the film is shot in the dark.
However, the negatives overpower the positives, and the biggest culprit here is the lack of any suspense.
Everything is served on the platter in the first 15 minutes itself and there is no real shift in characterisation of any of the principle characters.
One would have expected Jacqueline to turn ruthless but it turns out to be amusing instead to hear her uncomfortable chats with Zayn, who seems to be at ease in chains.
Manoj Bajpayee's part in the film could be termed as an extended special appearance as it is Jacqueline who does the heavy lifting, and she struggles.
Manoj is required to turn comical in each of his scenes, whether he is in trouble or creating trouble. One wonders why.
As for Darshan Jariwala, the senior lawyer, he lends unsolicited advice to commit murders as if it's a walk in the park.
Zayn is confident but she can't do much.
Shirish Kunder had done quite well in his short film thriller Kriti. Mrs Serial Killer doesn't quite cover the distance.
Rediff Rating: