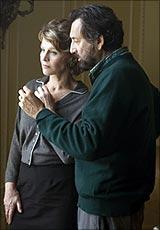 Towards the middle of New York, I Love You -- an ode to the romantic, sometimes wildly crazy and other times quietly charming city, a retired opera singer, played by the stunning Julie Christie, checks into an Upper East Side hotel room. 
The veteran Oscar winning actress is accompanied into the room by a young bellhop with a limp and a foreign accent. That is Shia LaBeouf, Hollywood's current young heart throb and box office sensation.
It is a beautifully woven, gentle story with a touch of play between reality, imagination and an underlying dose of sadness. It is a casting coup -- placing together the two stars at very different junctures in their career. 
In the brief moment, the two actors share champagne, portraying the tender connection between them. LaBeouf, who is usually seen destroying monstrous machines, gives a touching performance and is an equal match to Christie's inner strength and delicate beauty.
The credit for the visual poetry of this short piece goes to director Shekhar Kapur, working on a script written by the late Anthony Minghella (The English Patient). 
Minghella was supposed to direct this segment of New York, I Love You, but when he suddenly became ill last year, he decided to pass on the project to his friend Kapur.
Kapur's segment in New York, I Love You -- 12 short films celebrating the energy of the city, stands out above all the other works. But the film also boasts of a number of heartwarming stories directed by among others Joshua Marston (Maria Full of Grace), Brett Ratner (Rush Hour, X-Men: The Last Stand), Fatih Aiken (The Edge of Heaven), Natalie Portman (in her directorial debut) and Mira Nair -- the second desi director in the project.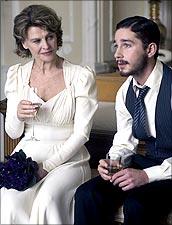 New York, I Love You is second part of the "Cities of Love" series produced by Emmanuel Benbihy and Marina Grasic. The first part -- Paris J'Aime featured a segment by Gurinder Chadha. The next part will be set in Shanghai and in 2011 the producers plan on setting the film in Mumbai.
The producers were clear about not working with filmmakers whose works are directly associated with New York City -- names like Spike Lee, Woody Allen and Martin Scorsese. Instead they chose filmmakers who have unique perspectives of New York and stories that have not yet been told.
And so Marston -- who is originally from California and now lives in New York, works with veteran actors Eli Wallach and Cloris Leachman, taking a gentle and yet humourous approach to the marriage of an elderly, bickering Jewish couple, as they walk in Brooklyn, eventually landing on the famous Coney Island boardwalk. 
Turkish-German filmmaker Aiken directs a fellow Turk -- Ugur Yucel in a story about a painter who falls for a young Chinese herbalist (Shu Qi) in New York's Chinatown area.
Israeli-born French filmmaker Yvan Attal directs two interconnected but separate segments, both featuring actors smoking outside restaurants in Manhattan's Tribeca neighborhood. 
In the first, a cocky Ethan Hawke tries to seduce a woman who has just shared a light with him. The story ends with a surprising and hilarious tone, as does the second piece where an over confident Robin Wright Penn steals a similar moment with Chris Cooper. 
Both the stories portray the seductive charm of New York City, where despite Mayor Michael Bloomberg's harsh anti-smoking laws, smokers drunk on alcohol, hold conversations and play sexually charged games on the sidewalks, outside bars and restaurants.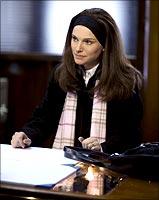 Mira Nair working on the script by author and journalism professor Suketu Mehta (Maximum City: Bombay Lost and Found) portrays a side of New York that has never been shown on film. 
Mehta was born in a Gujarati diamond merchant family, but he chose not to follow that profession and instead pursued his passion for writing. But in the segment, Nair directs Irrfan Khan, playing a Jain Gujarati diamond merchant, who must overcome his desires and passion to stay within the path that life has determined for him. 
Khan's distraction is a young and unhappy, orthodox Jewish women -- played by Natalie Portman, who is about to get married to a man chosen for her. They are attracted to the alternative reality, but that is not within their reach, at least not in this lifetime.
Nair's segment is a welcome addition to the multiculturalism of New York's immigrant life. But its tone does not match the mood and strength of the rest of the film.
But New York, I Love You works in its wide reaching homage to a city that normally cannot be defined within the film's 110 minutes time frame. The viewer will leave the theatre elated and perhaps wanting more.
Rediff Rating: