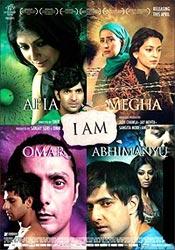 Onir's
I AM
opens with a quotation from Rabindranath Tagore's
Gitanjali
, 'Where the mind is without fear and the head is held high...' underlining the purpose behind his evocative anthology. 
While the subject of his stories set in four different cities -- Kolkata, Srinagar, Bengaluru and Mumbai -- varies from artificial insemination, Kashmir, child abuse and gay prostitution, they're connected by a common thread of disenchantment.
I AM Afia
: A choice mother's (Nandita Das) insistence to be acquainted with her donor, a young medical student (Purab Kohli), even though it's against the rules, builds up into a brief but tender, understated moment of timely compassion.
It's one of the lightest, slice-of-life segments in the quartet that resembles the naiveté if not the finesse of say, a
Dhobi Ghat
. Das (although she looks exhausted) and Kohli's good-natured, real-person aura makes both -- the initial awkwardness as well as the efforts to break the ice credible, very credible. 
I AM Megha
: The second episode recounts a Kashmiri Pandit Megha's (Juhi Chawla) short trip to her Srinagar home, which she was forced to flee owing to the communal tension in the early 90s. Resentful and unforgiving about this involuntary loss of identity, Megha has hardened with time.  Still, whether it's buying a box of saffron or quietly rummaging for unblemished nostalgia in a pile of wounded memories, Megha hasn't quite let go of her uprooted past. Her childhood friend, Rubina (Manisha Koirala) represents the other side of the coin, as the one paying the price for staying back in a supposed paradise.    
Barring a rather ill-fitted background score that's more
Braveheart
than
I AM
, this track is engaging and heartfelt with a lot of subtext to read in between the lines. It's nice to see Juhi tackle a role that doesn't rely on her giggles. The actress conveys a picture of long-harboured melancholy and suppressed vulnerability even if her dialogue delivery in Kashmiri is a bit bumpy. Unlike Chawla, Manisha Koirala's role is underwritten and relegated to the sidelines.
I AM Abhimanyu
: In his dreams, he's a girl. In reality, he's a shadow
of himself. Sanjay Suri's Abhimanyu demonstrates how unnatural circumstances affect the psyche of an individual. Having been a victim of his step-father's lust (Anurag Kashyap), Abhimanyu is bottled up about the ugliness of his problematic childhood.   
Onir treats this piece with suitable discretion cutting down the heaviness of its theme with passing references to
Breakfast at Tiffany's
. Not a particularly harmonious blend, that.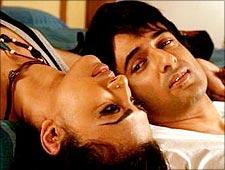 Also, while, Sanjay Suri is a fairly decent actor for all occasions, he's played the sufferer so many times in Onir films alone that he's unable to lend something more to Abhimanyu. Moreover, his scruffy hairstyle and persistent usage of 'Bengaluru' doesn't improve his case.  On the other hand, Kashyap's casual manner and probing eyes translate into a creepy, plausible paedophile.
I AM Omar
: Every story progresses into an ascending degree of intensity. The final one involves the hostile attitude faced by homosexuals in the country. Here, a well-to-do corporate guy (Rahul Bose) becomes bait to a sex hustler (Arjun Mathur) and sadistic cop (Abhimanyu Singh) looking to make a quick buck and more.
The unsettling tone of this sequence strives to throw light on the tough state of the LGBT community but never goes beyond skimming past its sensational surface – a passionate make-out session between Bose and Mathur following some Bollywood-inspired flirtations or Singh's offensive aggression.  Nevertheless, compelling performances by the troika, especially Singh.
Though it speaks different languages, compounds various cultures, examines diverse issues in our society and supports an individual's rights and choices,
I AM
refrains from any judgement nor offers any closure. None of the episodes conclude with a what-next scenario. Like incomplete bits of poetry, it's open to speculation. To some this may be most disconcerting. To some, as good as a reward.     It's not a flawless film that will change the course of cinema but a relevant one, funded by more than 400 individuals, that has more on its mind than today's news.  
Rediff Rating: