Athiya Shetty springs a surprise in this otherwise tedious film, says Sukanya Verma.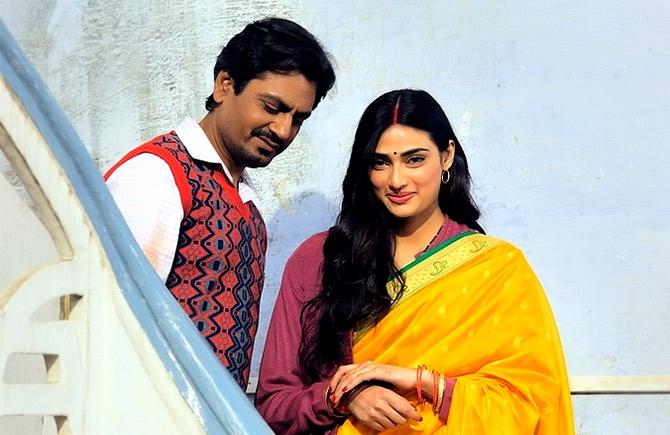 It's like there is nothing to small towns except boys and girls and their pesky families consumed by the idea of marriage. Bollywood is dangerously close to locking the cliché. We have seen so many manifestations of this view, hailed them for their quirks and shunned them for their monotony that it all seems a bit tedious now.
The colloquial rich zingers, the insular milieu, the quirky relatives, the meticulous subversion to social protocol -- film-makers have to do better than this to make their movie stand out. And Motichoor Chaknachoor's tame May-December romance certainly doesn't cut it.
Though the thick Madhya Pradeshi lingo, its lush green neighbourhoods housing sprawling middle-class homes and their large families as they jibber-jabber over regular sessions of chai and nashta offer a charming glimpse of wintertime Bhopal, it's the small-mindedness that really comes through under Director Debamitra Biswal's conventional vision.
In her obsession of marrying a phoren-residing groom and flaunt it on social media to impress her friends engaged in the same shallow exercise, Anita (Athiya Shetty) turns down every arranged marriage proposal dangled her way. This has made her something of a black sheep in the marriage market.
On the suggestion of her spinster aunt (a zany Karuna Pandey) with whom she shares a rather cheeky equation, Ani sets sights on the next-door neighbour's much older Dubai-based son, Pushpinder Tyagi (Nawazuddin Siddiqui).
Their 'I am WhatsApp, he's Telegram' difference in age and appearance repeatedly broadcast Pushpinder is not the eligible bachelor she had in mind.
The only thing the duo do have in common is desperation. He's in his mid 30s and dying to get laid. She'll tie the knot to any Tom, Dick, and Harry as long as he lives in 'bada wala videsh'.
Humour and heartache follow. If Motichoor Chaknachoor's slim storyline gives some semblance of reason to Pushpinder's urgency in his loneliness or controlling mom's (a reliably bossy Vibha Chibber) insistence on treating him as some golden goose who'll generate funds for her daughter's dowry, Anita's one-track mind makes no sense.
Whatever decent ideas it has about marrying for the right reasons, chasing ambition on one's own merit and the reality of parental exploitation are diluted when Motichoor Chaknachoor brushes off the rampant regressiveness engulfing Nawaz-Athiya's unlikely, quaint chemistry.
If Nawaz hits all the right notes in his portraying his character's timid, modest traits, Athiya Shetty springs a surprise in how she completely surrenders to Anita's perverse superficiality. Wish one could say the same about the film's confused idealism and slipshod climax.
It broaches the ugly subject of dowry, but does more to normalise its systematic presence rather than condemn it. All the spunk Anita demonstrates in holding on to her trivial aspirations is cast away to reinforce patriarchy.
In one contrived moment, Pushpinder's sensitive, sensible persona takes a brutish turn but instead of him feeling ashamed it's Anita who is brought to heel. Chaknachoor, indeed.
Rediff Rating: