Milan Talkies cannot decide what kind of a movie it wants to be, says Sukanya Verma.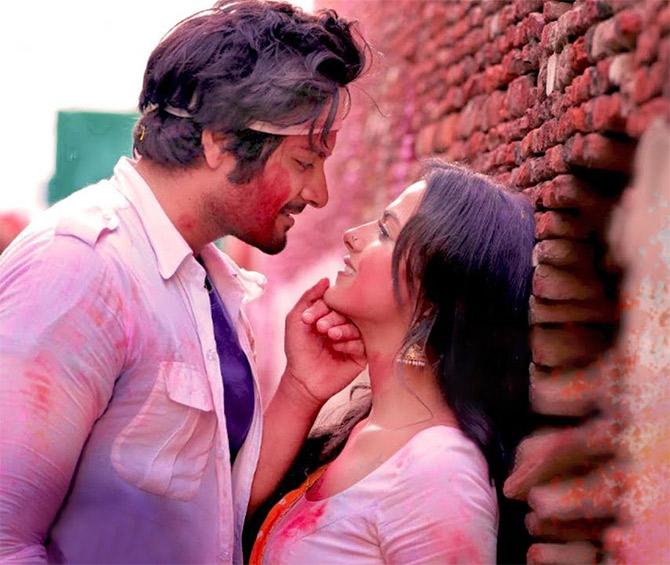 Milan Talkies opens with a medley of Bollywood dialogues and songs.
But it's Amrish Puri conceding 'Jaa Simran jaa... jee le apni zindagi' in Dilwale Dulhania Le Jayenge that ultimately decides the course of Tigmanshu Dhulia's highly confused fluff.
This is a movie that cannot decide what kind of movie it wants to be.
What starts out as a flashy celebration of Hindi cinema in small-town India soon collapses into a parody on the business of cheating in exams only to shapeshift into a hackneyed love story opposed by a glowering Brahmin daddy played by Ashutosh Rana like a man ready to burst out of his severely stereotyped skin.
Milan Talkies' glaring disproportion isn't limited to a frantic shuffling of themes alone.
Dhulia shoves in so many hollow subplots and characters into its hurriedly shifting scenario and it's exasperating to keep pace with something that serves no purpose.
So much of its yammering, zigzagging script, resulting in a 140-minute long slog, is an excuse to squeeze in song after song and contrivances like a director making a movie solely to convey a secret message to his girlfriend.
Dhulia's faith in her intelligence is confounding considering he introduced her first as a twit paying off her way to pass the exams.
Speaking of confounding, Milan Talkies is a period film.
The events take place between 2010 and 2013 but, except for a hat tip Badmaash Company (not a movie anyone cares to hat tip!), the choice of years, I reiterate, serves no purpose.
Dhulia's fixation for marrying filmi influences into dramatic reality is at the core of Milan Talkies.
His leads romance and take refuge inside a projection booth of an old movie theatre.
Reel and real collide sloppily amidst scenes being shot and bumbling locals.
The people inhabiting the movie are identified by their love or loathing for cinema.
Dhulia himself plays a failed Bollywood aspirant whose floral shirts and exuberant dialoguebaazi are the sparkling spots of this exhausting drivel.
Anu Sharma (Ali Fazal) and his flunky friends are wannabe filmmakers in Allahabad.
Production is perennially haywire between getting bullied by local goons for roles or dealing with an AWOL leading man after the Anti-Romeo Squad (a scowling Sikandar Kher) do a Bobbitt on their leading man prone to tape his privates so that he doesn't get horny around the heroine. It's never funny, before or after.
After Anu falls in love with Maithili (Shraddha Srinath) at first sight, trouble ensues.
Her conservative Brahmin father is against the match.
Anu is a Sharma, so caste clearly isn't a problem, Bollywood baap's bloated ego is.
Patriarchy does its thing and the mildly comic momentum of first half surrenders to the relentless melodrama of the second.
Dhulia gets the milieu down pat and has able support from his cast who looks like they belong to the world he constructs.
Their spontaneity for this muddled script is commendable, but not enough to suffer yet another case of repentant fathers and couples on a train to happily-ever after.
Rediff Rating: