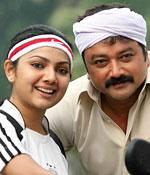 When a writer- director team with a successful track record unite for a new venture promising that they are going to try something new, their loyal audience are bound to feel excited. However, the disappointment is doubled if the effort is not up to the mark. And that is what happened with the Malayalam film Rahasya Police directed by K Madhu and written by veteran S N Swamy (famous for the CBI series with Mammootty).
Instead of Mammootty, this time they have Jayaram (for novelty sake) that too in a double role, and the setting is shifted to the verdant rural area.
As far as theme goes, the writer-director duo has not tried anything new. The basic premise is a murder mystery but it begins with a mimicry film (that is the only newness we can talk of) with two rich men of the area Kaimal (Jagathy Sreekumar) and Parambathu Raju (K B Ganesh Kumar) fighting over a temple festival.
Sub Inspector Rajan (Jayaram) is the in-charge of the Police Station of the area. A girl in the area goes missing and her corpse found from the nearby abyss after a few days. Kaimal, who is a lawyer uses his brains and makes out Raju to be the main suspect. Raju, who is a political bigwig of that village, gets arrested. The second Jayaram lands as goonda Challamani claiming that he is sent there to save Raju from the case by his political bosses in the capital (even a novice can connect the reference to the title of the film here).
If your head is reeling reading the gist of the first part film, the effect is worse when you actually see it on the big screen with nearly two dozen characters vying for your attention without taking the story forward.
The writer director team famous for taut storylines fail miserably here as even the real-time of little more than two hours feels eternity (was editor P C Mohanan on leave?).
Jayaram tries to get into the Suresh Gopi territory by looking stern with stiffened facial muscles but does not come anywhere near the original Police hero. It even made someone in the audience comment that Jayaram should stick to family films. There is a long line of comedians in the film, starting with Jagathy Sreekumar and ending with Suraj Venjaramoodu. In between there are Mala Arvindan, Harisree Asokan and Indrans. They try to lighten up the proceedings by engaging in lowbrow humour with Venjaramoodu even mimicking none other than Bheeman Raghu as Challamani's stooge.
It will be a mild statement if one were to say Rahasya Police is disappointing considering the amateurish treatment of the theme.
Rediff Rating: