Huma Qureshi makes this predictable yet engaging political drama binge-watch worthy, notes Namrata Thakker.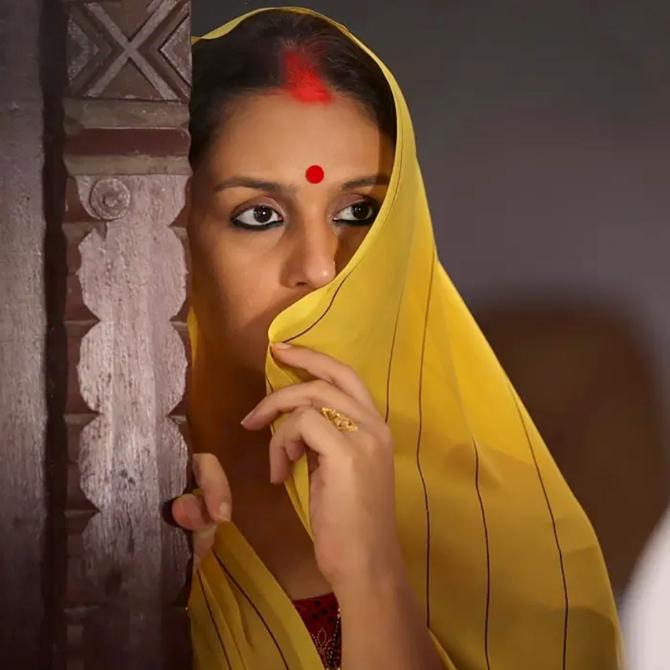 Set in Bihar, Maharani -- created by Jolly LLB director Subhash Kapoor and directed by Karan Sharma -- isn't entirely fictional and is loosely based on real political events.
The show revolves around Rani Bharti (Huma Qureshi) who becomes Bihar's chief minister after her CM husband Bheema Bharti (Sohum Shah) is paralysed in an assassination attempt.
Bheema Bharti takes the decision to stay in power and checkmate his political competitors.
In reality, Rabri Devi was appointed Bihar chief minister in 1997 after her husband Lalu Prasad Yadav was forced to resign because of his involvement in the fodder scam. Sohum Shah refutes the belief that Maharani is based on Laloo and Rabri's lives.
In Maharani, Rani Bharti is a housewife who doesn't know how to read or write.
She quickly adapts to the world of politics and this creates friction between her and Bheema Bharti.
How Rani navigates Bihar's caste-based politics with the help of her confidant Kaveri (Kani Kusruti) forms the rest of the story.
The makers have thrown in several subplots, some of which work well with the flow of the story and some of which don't.
Huma Qureshi headlines the show and rightly so. After a long time, it's good to see the actress in her element and giving it all to a role which could have easily back-fired.
From nailing the Bihari housewife look to getting the dialect and accent right for the most part, it's a delight to watch Huma as Rani Bharti.
Sohum Shah as Bheema Bharti is pretty good as is Amit Sial as Bheema's rival Navin Kumar.
Both actors do justice to their part, but I wish their roles were more meatier.
Then we have Pramod Pathak and Kani Kusruti playing Mishraji and Kaveri respectively. While Mishraji is loyal to Bheema Bharti, Kaveri forms a trusting association with Rani Bharti.
While Pramod Pathak has done political dramas like Mirzapur before, it's Kani Kusruti who grabs attention. She is fabulous as Kaveri and though she doesn't have much screen time, her bond with Rani Bharti is one of the highlights of the series.
It is good to see a woman actually empowering another, rather than judging her or pulling her down, especially in politics.
While the actors ace it, the writing makes the show lag.
I would have loved to see Rani Bharti's gradual transformation from an illiterate housewife to a smart and shrewd politician. It would have taken Maharani to a whole another level.
Also, the makers remind you every now and then how Bihar politics is caste-based and yet in the bigger picture, that plot gets completely lost.
The makers could have kept the show entirely fictional rather than confuse us by picking bits and pieces from past events.
Still, what makes Maharani engaging are the fabulous performances and some heavy-duty dialogues.
Maharani streams on SonyLIV.
Rediff Rating: