Lovers Rock is sexy, romantic, charming and hugely entertaining -- a perfect gift for movie lovers in these tough times, recommends Aseem Chhabra.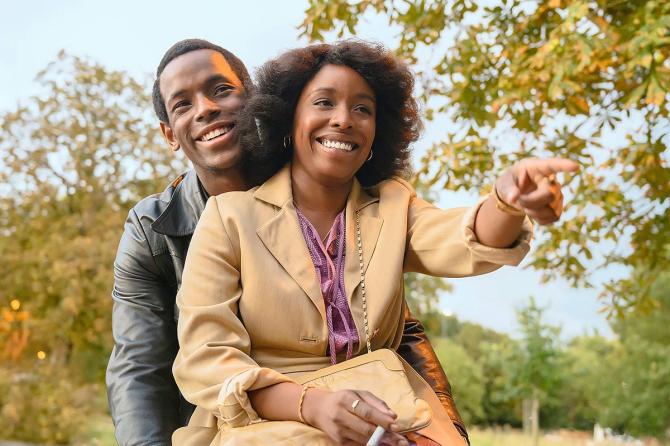 In Director Steve McQueen's new film Lovers Rock, a beautiful young Jamaican-British woman Martha (Amarah-Jae St Aubyn) escapes from her home late in the night to attend a house party.
Martha is wearing a shimmering purple dress and purple lipstick. Soon after she arrives, she attracts the attention of a young West Indian man, Franklyn (Michael Ward).
There is an instant connection and the rest of night, the couple spend talking, drinking, but mostly dancing to hit reggae songs.=
The year is 1980.
The party is set up in someone's living room with DJs, giant speakers, and a large group of young attractive black dancers. These parties were common in parts of Britain at that time, since blacks were not allowed inside bigger clubs that catered only to white patrons.
In Lovers Rocks, London-born McQueen (he is part Grenadian and part Trinidadian) recreates that party mood, where for once, race and other political tensions in the UK are forgotten and dancers sway their bodies with careless abandon. It is magical time.
And Lovers Rock is a truly magical film.
It is sexy, romantic, charming and hugely entertaining -- a perfect gift for movie lovers in these tough times.
Lovers Rock was blessed by the Cannes Film Festival as an official entry early this summer, even though the festival itself was canceled. The film will have its world premiere at the New York Film Festival this weekend.
Only 68-minutes long, Lovers Rock is one episode in the anthology that McQueen has directed, portraying different aspects of black immigrant experience in the UK.
Two others -- Mangrove and Red, White and Blue -- will premiere later at NYFF.
The five-part anthology called Small Axe (a West Indian proverb, meaning together we are strong) will stream later this year on BBC and Amazon Prime.
The party in Lovers Rock starts small.
First, the women take the floor while the men stand on the edges watching, slightly awkward, trying to decide how to approach a dance partner. It is a ritual many of us will remember from our high school and college days. But once the partners are formed, the real party begins.
Bodies linked together, hand and arms wrapped around shoulder and waists, the camera making us watch these intimate moments.
Some like Martha and Franklyn have found a true connection while others will only go through one song and move on to other partners.
They dance to Jamaican singer Carl Douglas's hit 1974 single Kung Fu Fighting (the song was produced by the British Indian musician Biddu Appaiah, who was also the man behind Nazia Hassan's single Aap Jaisa Koi from Qurbani).
The dancers squeal with delight. Clearly this is their favourite song.
Martial art gestures become a part of the dance. Young West Indians become kung fu fighters as Douglas's voice echoes, 'Everybody Was Kung Fu Fighting/Those Kicks Were Fast As Lightning'.
Later, in one of the two stunning moments in the film, the dancers shake their bodies to the 1979 song Silly Games, sung by Janet Kay.
The song goes on for several minutes, but once it is over, the party-goers continue dancing while they continue singing the lyrics. Even the DJs are amazed at the spontaneous sing-along session.
The other moment towards the end of the film has all the men break into a dance.
Suddenly, competition, rivalries are set aside as they break into a communal hypnotic dance exercise.
Aubyn and Ward are perfect as McQueen's young lovers.
The two actors are so likable together that I would love for a sequel just based on their plot-line, what happened to them after the party (and the film got over).
McQueen's eye for detail -- the production design, costumes, hair styles and, of course, the music -- makes Lovers Rock such a rich and enticing West Indian immigrant experience. Add to that the goat curry and rotis that are being sold in the backyard.
The film leaves us in a giddy state. It has been such a joy attending the party with McQueen's guests.
And after the end credits are over you will be surely singing Janet Kay's Silly Games.
Rediff Rating: