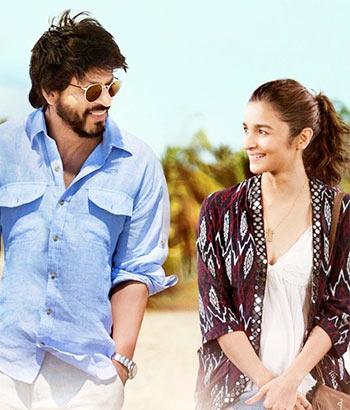 The beautifully picturised Love You Zindagi will take you on a trip down your favourite lane, Nostalgia.
Shah Rukh Khan has received a rocking birthday gift.
The first song from the Gauri Shinde-helmed Dear Zindagi has just been released and, boy!, does it give you some serious life goals!
Love You Zindagi is fun, chilled-out and, yes, could make you want to take that long-postponed trip to somewhere.
While it might be difficult to guess the film's story from watching the song, it looks Shinde is set to repeat the success of her debut film, English Vinglish.
So we have a seemingly carefree Alia Bhatt, enjoying a quiet sunset on a beach front. Gazing dreamily at Shah Rukh Khan, as most girls are wont to do, even as he keeps up an animated conversation.
All through the video, whether she's walking, waking up, hugging a tree, jumping into a puddle tripping over a sofa or falling off her cycle, cute Ms Bhatt is all smiles.
Though the song focuses more on her, the SRK bits are pleasant too and leave you wanting more.
Kausar Munir's lyrics seem appropriate: 'Jo dil se lage, usey keh do hi! hi! Jo na lagey usey keh do bye bye!'
Singer Jasleen Royal brings a freshness to the song. Amit Trivedi's music rocks.
So, yes, we're waiting for more.