'Love Sonia is a motion picture with the ambitions of a novel.'
'When I walked out of Love Sonia this Monday night, I walked out with a hushed audience that seemed too overcome by the raw power of the film to even pause for applause,' notes Sreehari Nair.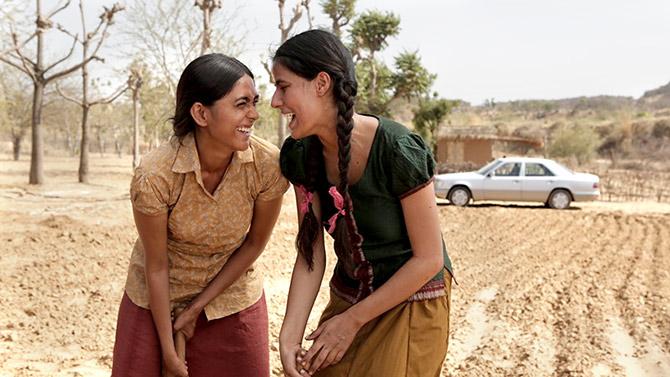 I walked into Tabrez Noorani's Love Sonia afraid that it might turn out to be one of those 'socially-conscious message pictures' which I often find I am not equipped to appreciate.
But this story of a girl from a Maharashtrian village who gets caught up in the global sex trade network is a rare achievement: It disregards polemics and then proceeds to almost journalistically show you the many levels at which sex trade operates.
This is a film that does not spare you the brutalities and yet manages to be strangely poetic.
We have in the past been exposed to movies that dealt with this subject, but rarely have they demanded anything from us. The audiences were, at such movies, often calculatedly driven to applause -- they were served the equivalent of partially digested food.
When I walked out of Love Sonia this Monday night, I walked out with a hushed audience that seemed too overcome by the raw power of the film to even pause for applause -- and so they made their way to the exit very slowly, very silently.
The realisation that comes over you during the course of Noorani's film is this: What the film's central character (the young, school-going girl Sonia) sees, what she observes,is as shocking as what she physically experiences.
This total loss of childhood is at once bruising and lyrical, and it is this note that Love Sonia masterfully plays.
If we feel something dying inside us as we witness Sonia's hellish ride, it is because Tabrez Noorani does not hold back from us Sonia's beauty -- she is like a striking charcoal painting come to life; her lips seem carefully drawn, her gums and her teeth evocate both her surprises and her fight for her soul which is the thing she's most scared of losing.
All through the muck, Love Sonia never abandons the idea of beauty, and further shows us that in density of information, in the multiplicity of truth, is hidden true artistic beauty.
So there's Sonia's father, Shivaji (Adil Hussain), a debt-ridden man plowing through a drought-ridden land (when Shivaji curses the land, you immediately recognise how much he once loved it), who sells off Sonia's sister Preeti into the flesh trade but keeps Sonia to himself.
Who goes and who stays back is, however, a purely commercial decision and not an emotional one; for Shivaji knows that Sonia is physically the stronger of the two sisters -- not letting her go is good, if only for the Man-Hours.
The deal to send Preeti off to Mumbai is cracked with a village despot, Dada Thakur (Anupam Kher), who washes his sins away by sprinkling some of his drinking water around -- presumably to appease the good spirits.
When Sonia approaches Dada Thakur and pleads with him to let her make the trip to Mumbai so that she could be with her sister, Thakur smilingly agrees.
At this point, his own daughter, who is of Sonia's age, suddenly makes an appearance on the scene, and Thakur has the good sense to shoo her away.
Sonia shares a deep relationship with the natural world (with the soil, the milkweeds, and the butterflies); so much so that, under the influence of love, she even experiences sunlight differently.
In the harsh lanes of Mumbai, sunlight is her adversary; but when in love, the light caresses her face.
Actress Mrunal Thakur (who plays Sonia) has a face that takes in the rude surprises of Mumbai -- its every lane and its many contradictions -- and brings them to us without filters.
And after she is led through those punishing lanes by a belle (Sai Tamhankar as Anjali -- casually brilliant), who specialises in 'supplying' village girls, after she is asked if she loves bangles, after that question gets her to guffaw, Sonia is then motioned into a busy brothel where sex, terror, and fast-talking overlap, and where at every turn is a Bollywood Face (Richa Chadda, Rajkumar Rao, Frieda Pinto, Manoj Bajpayee, and an evidently 'Bollywood Cat' all appear in quick bursts) playing brothel regulars.
It is a breathless, relentless sequence where you are put in Sonia's position and the air is slowly sucked out of you.
Noorani isn't interested in shocks though; he is searching for a true mythic image of Mumbai's red-light districts.
And Love Sonia isn't about prostitution as a social evil; it is about its banalities, eccentricities and consumerist underpinnings -- about the manners and mores of the brothel, where fake wisdom and cant are a big part of doing business, and where the search for the perfect orgasm is badly mixed up with unresolved issues from the past.
In such a setting, Sonia becomes a 'premium package' -- she is the freshest flower; the virgin who must be preserved for the 'big kill'.
When the brothel owner Faisal (Manoj Bajpayee) pitches Sonia to an international client, what becomes evident is the connection between sex and power.
'The girl is a virgin,' shouts Faisal into his phone, 'Virgin! INNOCENT!'
The deflowering of a virgin, the right to kill her innocence -- which is the one right that kings, village strongmen, and politicians all covet, is the driving force of the flesh trade business.
Bigger the man, greater is his thirst for destroying the natural order of things.
Manoj Bajpayee plays Faisal like an entrepreneur with the vocabulary of a religious head. He tries to stir Sonia up with grand sermons, and then counts his money in isolation.
It is a frighteningly smooth performance and one that is most effective when Bajpayee is acting consciously well-behaved (At his most frightening, Faisal is like a Rabbi appealing for funds).
When you first meet him, Faisal is pummeling a customer for getting too rough with a girl. The girls are Faisal's property; only he can do with them as he pleases. Faisal is both their protector and their destroyer: He is the God of the Girls.
Love Sonia expands the scope of the world it is set in by staying clear of abject villainising -- a clear sign of a director with an epic vision.
Sonia's first 'customer' is an old man (one look at him and you know his history -- a retired government servant-type, probably the secretary of his housing society; here's a man who now misses the fruits of domestic pleasure).
The bespectacled 70-something walks in and politely asks Sonia, ';Kaisi Ho? (How are you?)'. He doesn't wait for her answer and proceeds to unzip his fly.
Later, in Hong Kong, Sonia is ushered into a luxurious home by a gentlemanly fellow who shows her around -- the fittings, the 'collections', the view from his sundeck.
A lesser movie would have made out of this tasteful man a 'saviour', but Love Sonia is a motion picture with the ambitions of a novel. And so the 'showing around' merely turns out to be the first step toward shoving in.
The man is not evil; just someone with refined tastes: he approaches an evening with a prostitute like a 'Sex Date'.
Caught up in the Sex Roundelay, this search for refinement is shown to be an eternal one.
The prostitutes, when they call each other 'Randis' act as though the taunting raises them to a better life; albeit momentarily.
When you are in the matrix of the movie, none of this looks or sounds absurd; and you understand that in those dimly-lit, overcrowded rooms, what one naturally acquires is an absurdist view of life.
This is best exemplified by Frieda Pinto's Rashmi who can hardly stay still and who constantly moves to the music of the flesh: She's like Catwoman in Koli attire.
Love Sonia has its own dreamy look and hallucinatory pacing: Neon and grime, fast-moving traffic and slow-moving lives, all juxtaposed.
The movie's score is the scream of sex and the scream of imprisonment fused together; and when the camera jaggedly swipes across a piece of geography, it seems to be capturing both life on the move and the transience of the moment.
The film's mysterious, hypnotic images give us the truths behind our overused jargons; and at times they show us how our jargons attain a life-like dimension.
When a container filled with Indian girls (which sets sail from Mumbai) is transferred to a truck (waiting in Hong Kong), the term 'Flesh Trade' gets an expansion: The girls and their bodies are indeed 'Commodities'. They are perhaps one of our most valued 'Exports'.
The structure of Love Sonia, the arc of its story, also has a metaphorical viewpoint -- it is a slap in the faces of those faux-inspirational editorials with titles such as 'The girl from Kanpur who charmed Paris'.
By the end of the picture, Sonia goes from being a schoolgirl in rural Maharashtra to a lady on the streets of Hong Kong, dressed in expensive clothing and jewelry -- and then she stops to eat out of a trash can.
Tabrez Noorani's approach is generous: He doesn't push the ironies in the storyline upon us. He trusts us to catch them.
Mumbai, for example, is established as the Grand Narrative in Sonia's small village. The schoolteachers in the village reinforce through their lessons the importance of Mumbai; and the village folks themselves talk about the city as if it were an exotic, faraway land.
It is this Mumbai that consumes Sonia and her sister. And Noorani adds another layer to the tragedy by casting a series of prominent Bollywood Faces as the chief devourers: Reflecting thereby on the indifference of our heroes, on the consistent failures of those who guard our dream galaxies.
Throughout the 120 minutes of Love Sonia, there are so many moments filled with small revelations -- inexplicably moving images, such as that of a prostitute running her hand over a Salman Khan poster -- that you may find yourself lacking the emotional strength to deal with the total experience of the film.
I didn't look away from certain scenes of brutality (scenes such as Frieda Pinto's Rashmi revealing to Sonia the scars on her back; or Faisal pimping Sonia out in exchange for a cigarette) as I usually do.
When art wants to truly sensitise you to a reality and not titillate, you want to see the violence (like you want to see the garrotings in The Godfather) -- the violence then becomes a part of the whole opera, and you feel its implications in your nerve-endings.
For the most part of Love Sonia, Noorani places the subject at hand under a glass and magnifies our feelings about it. But toward the closing stages, the film starts to read like a condensation of a great non-fiction book. Which is when, one might feel a little spoon-fed.
Also, the relationship between Sonia and her sister -- arguably the centerpiece of the story -- feels a tad underdeveloped (the intended epiphany doesn't quite arrive).
The counter-point editing is almost dead perfect, but those fake-poetic scenes of Sonia's imaginings of her happy village-life feel slackly inserted into the city sections.
The film suggests regret with greater conviction in a sequence where Richa Chadda as Madhuri thinks back to that one moment where her life changed forever. She talks about a train she had missed and as she remembers its little details, bangs her head against a wall.
An argument can be made that Love Sonia is on some level a subtle commentary about sex divorced from love, about meaningless, mechanical sex; it is to contrast this perhaps that Noorani places at the heart of the film a tale of innocent love.
In her village, Sonia has an admirer -- a boy who traps a butterfly in a bottle and lets Sonia feel on her cheek, the fluttering of its wings.
To her sister's prodding about whether the wings on her cheek felt like 'Kissing', Sonia states confidently that that is not what a Kiss feels like.
In a way, it is her this intuition that saves the girl's spirit in the darkest pits of hell.
This is why she senses the need to run away at the first sights and sounds of the brothel.
This is why she manages to pull herself together even after being broken in all the wrong places.
This is why: She may be a naïve little village girl, but she surely can tell the difference between a kiss and some random fluttering.
Rediff Rating: