The real achievement of the film, which is now available worldwide on Netflix, is that it resists the temptations of the genre. It is an inspiring homage to life, gay or otherwise, and that which keeps us together and breaks us apart, says Vikram Johri.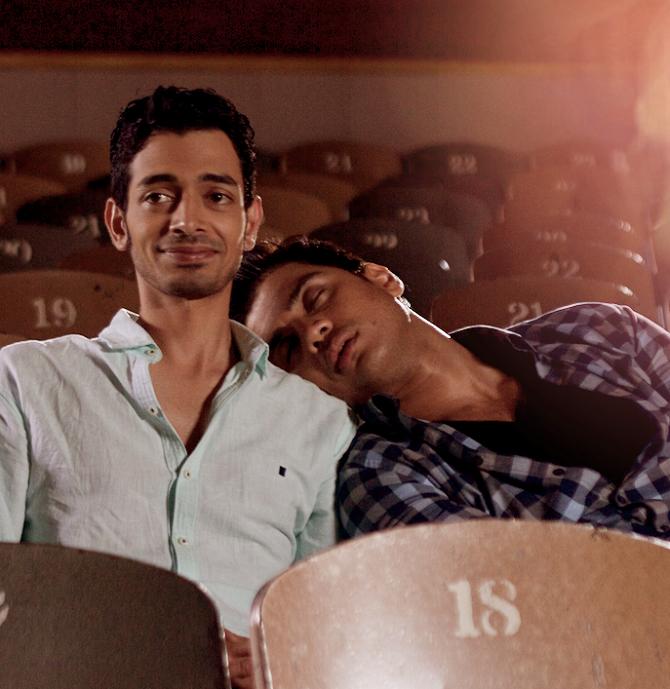 Loev, the Sudhanshu Saria-directed gay drama that released in 2015, is now available for worldwide streaming on Netflix. The story of three men, Jai (Shiv Pandit), Sahil (Dhruv Ganesh) and Alex (Siddharth Menon), the film is a deeply realised portrait of love at the intersection of sexuality and self-esteem.
Sahil and Alex are a Mumbai-based couple, so it is odd when Sahil takes off for a weekend in Mahabaleshwar with Jai, a corporate bigwig from NYC. They have a history, which will be revealed later in the film.
In the first scene, Sahil is groping in the dark because Alex has failed to pay the electricity bill (why he could not do it online is something the movie does not answer). Sahil is packing for his trip with Jai, and his constant haranguing about the unpaid bill does not grate on Alex, who still drops him to the airport.
Both Sahil and Alex work in creative industries, a field that is naturally accepting of alternative sexualities, which may be why this is not a film about the challenges of coming out.
Meanwhile, Jai is a successful real estate consultant in Manhattan. Pandit portrays him with uncanny verisimilitude -- his accent and gait have the confidence of someone who has had it made.
Yet, he shares an easy conviviality with Sahil, which speaks both to their relationship and to his comfort with being who he is.
Their scenes in Mahabaleshwar have the charmed intensity of moments stolen from the passage of time. They shop, take a trek, bicker, make up, and share a moment whose intimacy is checked by Alex's hovering memory in their midst.
Loev is the kind of complex gay drama that we rarely, if ever, see on the Indian screen.
The characters' gayness is incidental -- there is only one scene in the film that discusses the social ramifications of openness about sexuality in India. But Saria masterfully extrapolates from that scene to air the film's central tension.
After Jai and Sahil return from their trip they check into a Mumbai hotel, where Jai is to meet some clients. The car they drove in to Mahabaleswar belongs to the client and as the meeting is on, Sahil drops in to ask for the keys since he has left something behind in the car. When Jai hands them over to him, Sahil deposits an innocent peck on his cheeks.
The fight that later ensues revolves around this fact only tangentially, and it is to Saria's credit that he is able to present the moment of reckoning as one that has been building up for some time. Yet, the violence that marks this moment is both shocking and unearned, a grievous wound that threatens to drown the film.
The aftermath though is tender, even instructive.
Sahil and Jai meet Alex and a friend for dinner in the same hotel, and the evening dovetails into a warm exposition on love and life. There is music and memories, and the episode from earlier that day slips into less clear territory: Something that will, in spite of its disturbing quality, issue a breakthrough.
---
Don't miss: The making of India's most important gay films
---
Even good gay cinema is sometimes unable to peel itself off from conventions of the genre -- and I don't just mean stereotypical depictions of LGBT persons. Absent reinforcing social modes, gay relationships on film can end up looking frozen, as though all the activity is merely an ephemeral coming to terms with the painful reality.
Loev resists such temptations, and not simplistically. It is able to showcase a real relationship both between Sahil and Jai, and between Sahil and Alex, a conflict that is fully resolved towards the movie's end.
But its real achievement is getting the viewer to care about both relationships before it delivers its stunning, sublime conclusion.
Ganesh, who plays Sahil, is the film's charismatic, mercurial heart.
His character is touched by the magic of competing affections, and his innocence is unable to parse the gravity of a dark episode. His willingness to forgive speaks to a love that is unmistakably tied up with his condition.
After the end credits roll, the film pays Ganesh, who passed away in 2015 of tuberculosis-related complications, a haunting tribute: 'For Dhruv, who seduced us all and left too quickly.'
Is Loev a gay film?
Only partially, even if it is about gay men.
Its most transcendental moments emerge from its characters making choices they cannot fully explain, but which have some truck with who they are and how they see themselves. It is there, in the hidden depths of their being, that this film finds its métier.
Like a nebulous vision that comes into focus when you least expect it to, Loev is an inspiring homage to life, gay or otherwise, and that which keeps us together and breaks us apart.