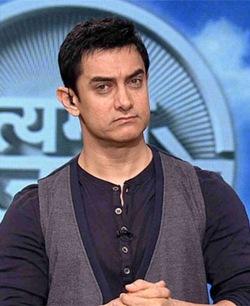 Satyamev Jayate 3 may have gotten off to a better start than its predecessors but can Aamir Khan dial it down a couple of notches further, asks Nishi Tiwari.

When the chain of ads extolling the change Satyamev Jayate had brought about in the country first appeared on television, it was only understandable that the makers were out to up the ante for the show's upcoming season.

Surprisingly though, the first episode of Satyamev Jayate's third season was decidedly less melodramatic and loud than before.

Which is not to say there has been a radical change in the way the show's host -- Aamir Khan, the scowling 'conscience of the nation' -- conducts himself on the show. But more on that later.

The first episode, titled A Ball Can Change The World, aimed to direct the audience's attention towards the importance of sports education in India and how it can be used to steer juvenile delinquents away from a life of crime.

We are introduced to Akhilesh Paul from Nagpur, a former petty criminal who, at the behest of the neighbourhood school's sports teacher, took up football and now coaches kids from a red light district area.

It struck me as odd that this first anecdotal point the show was trying to make took a good 20 minutes of the 90-minute show (had their research work run its course? Were they trying out a new format?). But the cringes came when Akhilesh, while taking Aamir through a particularly dark period of his transitional phase, broke down.

Aamr, seemingly more on cue than on instinct, gets up and hugs him, while he fights back his own tears. The camera then pans to the audience and lingers on a few tear-streaked faces.

Did someone say manipulative? That ship had long sailed for Satyamev Jayate, many would reckon.

The next segment brings out the inspirational story of Commonwealth Gold-winning wrestler sisters Geeta and Babita Kumar, who hail from a small village in Haryana and were encouraged by their father to achieve excellence in a sport instead of relegating their lives to the predestined path of early marriage and kids, like the other girls in their village.

We are then introduced to Matthew Spacey's Magic Bus, an initiative to rehabilitate poor kids into livelihoods when they grow up, and the kids who witnessed their lives change for the better ever since they were taken under its wings.

While these feisty and articulate kids revive the pace of the show to a great extent, Aamir's enunciation of everything his guests say and forced amazement at the statistical figures they throw at him in the course of the conversation seem a bit too put-on.

The idea to talk about ways to rehabilitate juvenile delinquents is praiseworthy, so is the single-mindedness with which the episode strives to bring its viewers' attention to it.

Now only if Aamir Khan learned a thing or two about dialing it down a bit every now and then.

Did YOU, dear readers, like the first episode of Satyamev Jayate 3? VOTE!