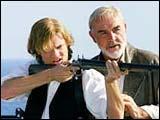 If you thought 55-year-old Arnold Schwarzenegger looked terrific in Terminator 3: Rise Of The Machines, check out 72-year-old Sean Connery in the inventive, and often very funny, period drama The League Of Extraordinary Gentlemen.
Though his character is not as interesting or endearing as the one in Steven Spielberg's 1989 hit Indiana Jones And The Last Crusade, it has plenty of dash and feeling.
Looking sprightly and well preserved, Connery exudes so much energy that some of us may like to believe he did all the intricate stunts himself.
The big budget film which features Naseeruddin Shah as a long-bearded and turbaned desi Captain Nemo, falters in many places because it is not sure what is more important: building interesting characters or mounting eye-popping action.
There have been persistent stories of conflict between Connery, one of the producers of the $100 million film, and director Stephen Norrington. That may have affected the film's final direction.
And the concomitant confusion could have limited many performances. Shah, one of the most resourceful actors across the globe, has very good presence in the movie, and his eyes and voice speak a lot, even though his flowing beard covers half his face. Still, you wish Norrington could have coaxed a better performance from the veteran.
Shah, too, goes through the film with plenty of agility.
Even with its limitations, the movie which has used many beloved and hated characters from legendary fiction and speculated how their lives would have turned out after their greatest adventures, is far more entertaining than most of this summer's high-fevered movies.
I would prefer the company of these gentlemen any day over the semi-clad Charlie's Angels: Full Throttle or the muscle pumping The Hulk.
Having been released the same week as another period drama Pirates Of The Caribbean, which has more extravagant chase scenes and grander performances, The Gentlemen will have to overcome considerable challenges at the box office.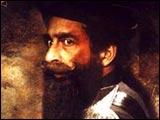 The film could also rob considerable amount of fun off those who have forgotten H G Wells' The Invisible Man, Bram Stoker's Dracula, Oscar Wilde's The Picture of Dorian Gray and Jules Verne's 20,000 Leagues Under The Sea; and writers like R L Stevenson and Mark Twain.
Besides, it will not offer much guilty pleasure to those who simply did not know these writers. The film sparkles with many one-liners that poke fun at the British Empire, but fails when it seeks to be suspenseful or sentimental. The effort to draw suspicion to Nemo, a Kali worshipper, falls flat, for instance.
Allan Quatermain (Connery), the colourful, fearless and intrepid hunter and explorer from H Rider Haggard's King Solomon's Mines, is roused from retirement in Africa where he has seen his son die. He is asked to lead a team of unusually interesting men and one woman on a secret mission at the end of the 19th century. Though he had come to despise any talk of the Empire, Quatermain now has a few compelling reasons to change his mind.
The group consists of Nemo (Shah), Dr Jekyll and his monstrous Hulk-like alter-ego Mr Hyde (Jason Flemyng); the female vampire Mina Harker (Peta Wilson) seduced by Dracula; and an invisible man (Tony Curran). Also joining the adventure are Tom Sawyer (Shane West) and Dorian Gray (Stuart Townsend), who is obsessed with his eternal youth and invincibility, seemingly ensnared by a mystical portrait.
Some scenes that work very well include the attraction and conflict between Harker, whose monstrosity was not self-chosen and Gray, who has chosen his fate.
One wishes the film a solid sailing at the box office. Had it been darker, it would have emerged a major cult favourite.
CREDITS
Cast: Sean Connery, Peta Wilson, Stuart Townsend, Tony Curran, Jason Flemyng, Naseeruddin Shah
Director: Stephen Norrington
Screenplay: James Robinson and Alan Moore (based on a comic book created by Alan Moore and Kevin O'Neill)
Click here for More Reviews