Kunal Kohli's Lahore Confidential isn't a patch on his Fanaa, asserts Moumita Bhattacharjee.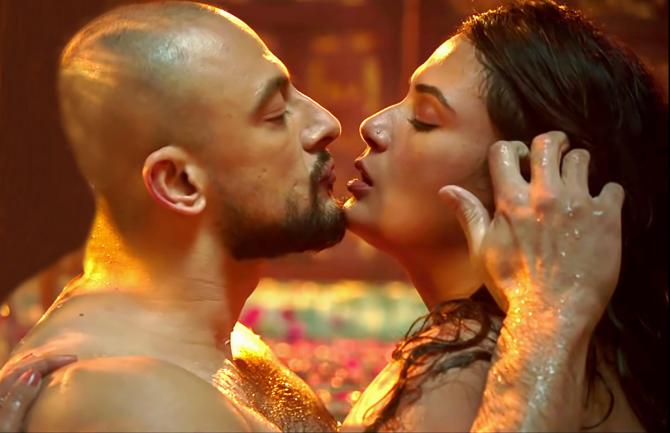 Call it a habit or misplaced trust, the name Kunal Kohli in the director's credit makes me expect the unexpected.
Even after Thoda Pyaar Thodi Magic and Teri Meri Kahaani, I always give him the benefit of doubt, courtesy Hum Tum, Fanaa, and even Mujhse Dosti Karoge!
That's because it always feels as if there will be some moments of spark in the tale.
Unfortunately, the statute of limitations for putting faith in Kohli is finally over with Lahore Confidential.
The story is about Ananya Srivastav (Richa Chaddha), a 'desk job holder' and an Urdu literature aficionado.
According to R&AW, she is the best undercover agent to befriend Pakistani big-wig Rauf Ahmed Kazmi (Arunoday Singh) and to learn everything about his illegal operations.
Ananya is sent to Pakistan and she does her job well to the extent of actually falling in love with him.
But a bomb blast and the murder of Indian agents later, Ananya realises everything is not what it seems.
Like I said before, there's a lot of room for Kohli's brand of cinema to bloom -- about how a girl meets a boy in strange circumstances and romance ensues.
It reminds you a bit about Fanna where poetry, be it Urdu or otherwise, is peppered fantastically in the dialogues.
It has been so many years since we heard such beautiful lines and couplets in Hindi movies.
But the feel-good factor ends right there.
There will be a few spoilers ahead so, proceed at your own risk.
Vibha Singh's story is painfully convenient to the point that the characters don't even ask questions.
Rauf and Ananya get into an accident and nobody bothers to know what was it all about.
Even when the blast happens, hardly any questions are asked.
Rauf and Ananya's dates have the former talking about the ISI's plan openly and nobody hears them.
Skilled agents just leave their phones with important data lying around to be pried upon so easily that even a 10-year-old can do it.
Doesn't R&AW train their agents? Because Ananya was just told to go to Pakistan and not even prepped for the mission.
Richa Chadha's character is perhaps the most shoddily written one in the entire film.
I don't know why R&AW felt she is the perfect undercover agent when Ananya is so gullible.
She trusts Rauf without bothering to find out the authenticity of his claims.
When Indian agents tell her about Rauf's true reality, she switches sides without a second thought.
By the time her character decides to have a mind of her own, you just don't care!
Richa's laid-back delivery doesn't make the character attractive either.
Arunoday Singh's Rauf doesn't do much other than to speak in poetry, kill a few people and try to impress Ananya.
Karishma Tanna's Yuvti is one of those cliched characters you find in every movie, who lives life on her own terms, with no strings attached.
Kohli's direction is slow, unenthusiastic and drab.
It's not the first time that he has handled an India-Pakistan love story.
Yet, the presentation isn't even a patch on Fanaa.
Lahore Confidential could have been a fetching tale of love and deceit, but it ends up being a hastily summarised concept that should have been left on paper.
Rediff Rating: