The climax is what saves Koi Jaane Na from being a complete letdown, sighs Joginder Tuteja.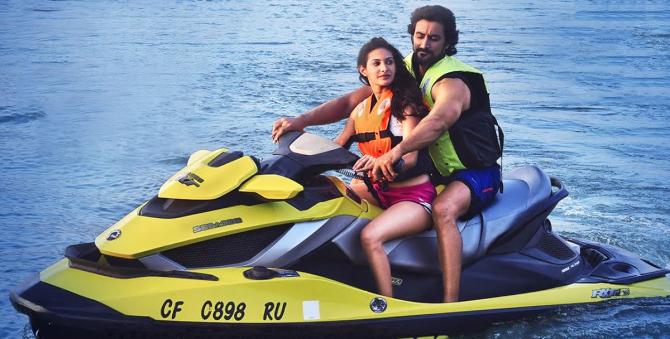 The start and the end of Koi Jaane Na is weird, really weird.
A hardcore commercial film is presented as a philosophical affair in the first and the last 10 minutes for reasons best known to writer-director Aamin Hajee.
In the midst of this, leading man Kunal Kapoor is introduced in very poor prosthetics in an attempt to pass him off as a Sikh. Later, when the film is through with a climax which somehow brings the film back on track (more about that later), there is again a weird credit title roll making one wonder why the team has wilfully got into an arty zone at the start and the end when the subject is commercial.
Well, this is just one of those many things that makes you exclaim Koi Jaane Na, pun intended, at quite a few places.
For starters, the first 30-40 minutes are all over the place. A writer (Kapoor) is wilfully not writing anything good to get back at his divorced wife (Vidya Malvade) who has stripped him of his assets through alimony and there is talk of her taking away his Panchgani bungalow as well.
Enter Suhana (Amyra Dastur) out of nowhere who doesn't have a bag, isn't carrying a jacket, won't share her PAN card and pronto find herself a boyfriend. Heard of 'Main toh beghar hoon, apne ghar le chalo?
Really, if a hotel can employ someone like her without even a PAN card, I wonder what kind of checks and balances do they have in place when they check in their guests?
Ignoring this and instead getting distressed by 1970s style movie making where a car scene is shot on a static set with a screen behind carrying moving traffic, hence wondering aloud about the film's production values, you move ahead with the characters where a mysterious man arises from a novel.
An attempt to create a Sin City mood, albeit for just a minute, is unsuccessfully put together even as you hunt for a story all around. A shady blackmailer (Karim Hajee), a drunkard army officer (Raj Zutshi) and a mystery man (Atul Kulkarni) are introduced at regular intervals, but you still hunt for that elusive story.
Expectedly, murders begin to take place and even though Ashwini Kalsekar at least makes an attempt to uplift a scene, her threats of 'Kal thane mein aake statement de jaana' are so lame that even the lead actors don't take them seriously.
Instead, they take it upon themselves to find the genesis of the killings, even as strange mannequins, cheap wigs, shady interiors lighting, tell-tale newspaper cuttings and more such props arrive out of nowhere.
It is to the credit of everyone that they still look at it all with a straight face, even as a cat practically screams THERE IS SOMETHING TERRIBLY WRONG WITH THIS HOUSEHOLD from round the corner. Well, literally.
Thankfully, the climax is what saves the film from being a complete letdown, and while the Karthik Calling Karthik mood is re-introduced here, the person responsible for it all was staring at you right from the introduction scene, and hence there is no jump scare moment whatsoever.
Still, to give credit where it is due, you do go with the flow and leave aside the liberties taken with the narrative, which can be passed off in a commercial film, there is something here at least that makes you play along.
Unfortunately, that's the only part of the film that appeals and here too Amin Hajee makes sure to kill the moment with the oddly placed end credit roll.
Rediff Rating: