Smart people can do really stupid things, sometimes. Knocked Up is an example.
Allison Scott (Katherine Heigl) is an ambitious young woman who has just been offered an on-air assignment at a major news network. She is living in the guest house of her snobbish, protective sister Debbie (Leslie Mann) and her henpecked husband Pete (Paul Rudd, giving one of his best performances).
On the day of her promotion, Alison takes her sister to a bar to celebrate but when the sister returns home early, Allison starts drinking and dancing with Ben (Seth Rogen), a luckless friend of the couple, living in a dilapidated house in Los Angeles. Any guesses what happens next?
After a clumsy romp in bed, a disgusted Allison wakes up next morning thinking she has seen the last of Ben. Several weeks later, Ben learns he is a father and that, horrors of horrors, Allison actually wants to keep the baby.
Ben, broke as ever, has to decide fast: Will he run away to his home in Canada or will he stick around to help raise the kid? What follows later is a delightful comedy with a mix of raunchy humor, enduring friendship and touching moments when Ben comes to terms with being a father.
Writer and director Judd Apatow has really come out with an honest, thoroughly engaging and thoughtful comedy. The movie also happens to be one of the best films released so far this year.
Though Knocked Up may not dethrone Pirates of the Caribbean: At World's End over the weekend in North America, it has gotten rave reviews and word of mouth suggests it could be a slow burner at the box-office.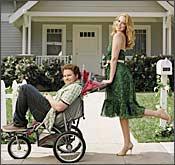 Rogen -- who also had a good part in Apatow's 40-Year-Old Virgin -- is quite an inspired choice for the role of the young man unwilling to grow beyond his extended adolescence. Angry at being taken for granted, Rogen does a superb job depicting the struggle within.
In the second half of the film, we find him endearing as he convincingly learns his responsibilities and helps Allison go through the pregnancy despite several unforeseen obstacles.
'It seemed like Seth Rogen came out of the womb with his own comic identity,' Apatow says in the production notes of the film. 'He is a very viciously funny, biting, sardonic personality, but yet he is a sweet and good guy. That combination is always fun for comedy.'
Apart from Apatow's wife (Leslie Mann), his two daughters also appear in the film adding quite a few hilarious moments. And the four flophouse friends that share the apartment with Ben -- and who are also transformed by the unplanned pregnancy --are close friends of Seth Rogen.
Apatow says casting his own family and Seth's friends made life very easy for him. 'I don't really have to do much, because if I just say, pass it around and talk and give each other a hard time, I know they will do what they would really do. It is a great, lazy writer/director move. And then I did something else which was really lazy -- I didn't even bother to change any of the guys' names, except Seth's in the film.'
Well, it definitely shows.
Rediff rating: