Salman Khan is so neck deep in his formulaic rut that the only way he knows out is to dole out some more of the bunk.
Except now, the swagger has traded places with desperation, notes Sukanya Verma.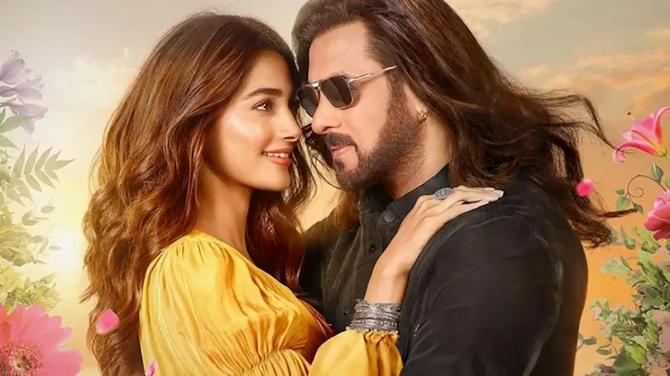 Salman Khan is so neck deep in his formulaic rut that the only way he knows out is to dole out some more of the bunk. Except now, the swagger has traded places with desperation. So, it's the same old bhai standing in front of his audience asking them to love him.
It's a pitiable scenario when an actor starts idolising his own imagery -- it can only spell doom.
Kisi Ka Bhai Kisi Ka Jaan is exactly the sort of hack job that happens when a superstar in denial misconstrues career fatigue as a challenge that needs to be fought off with more career fatigue.
Between poorly constructed meta references to Maine Pyar Kiya, Hum Aapke Hain Koun..!, Wanted, famous dance steps and style staples, this drab remake of Ajith's already run-of-the-mill Veeram hopes to ride on the successful South cinema wave and yet cannot let go of its inherently Bollywood mindset.
Sans any spark, story or masala, this bland South-meets-North khichdi cooked up by Farhad Samji, infamous for his broad brand of comedies, blows its own trumpet, whistles at its own herogiri and is stuffed with actors reduced to cheerleaders for Bhai.
While not as ghastly as Antim or Radhe, depending on how low your benchmark is, Kisi Ka Bhai Kisi Ka Jaan is one heck of a banal and boring ride, spending its 144 clueless minutes on awkward romance, dreary melodrama, dowdy faceoffs and a forcibly squeezed in song every few minutes for the lamest of reasons.
Salman beats some baddies, there's a song.
Salman chops off his tresses, there's a song.
Salman shaves off his beard, there's a song.
Before diving into musical cacophony, there's the mandatory introduction scene where we first spot a leather jacket flying mid-air followed by the all-familiar bracelet, his unruly, unflattering tresses and then the man himself looking like Thor on a bad hair day.
There's the obligatory one-liner too -- 'Sahi ka hoga sahi, galat ka hoga galat, kyunki is desh mein hai bada dum, Vande Mataram.'
Not sure if he's talking power or politics but what ensues feels like a 10-minute long Pepsi commercial.
If only the makers took plot as seriously as product placement, Kisi Ka Bhai Kisi Ka Jaan would, maybe, pass off as campy fun.
Though I did find myself laughing out of sheer embarrassment at Prem and Suman's cheesy reunion wherein Bhagyashree's real-life husband and co-star of couple movies, Himalaya Dasani, interjects what ought to be an aww-moment with hilarious doses of awkwardness.
Salman Khan plays a guy with no name in a country where it's tough to survive without an Aadhaar card.
I didn't really catch what he does except act as a do-gooder, flashback -- took in three orphans and raised them as his own blood and brothers (Jassie Gill, Raghav Juyal, Siddharth Nigam).
Even if you are informed what a character's profession is, like antique collector in Pooja Hegde's case, it rarely matters (unless it's a metaphor for her 57-year-old romantic interest) because falling in love in pretty clothes is all that's expected out of her character called Bhagyalaxmi.
Somewhere in a fictional Delhi basti, no-name Bhaijaan's prolonged bachelorhood (owing to some wretched member of the fairer sex, of course) and yawn-inducing romance with the much-younger Bhagyalaxmi (one minute they're connecting over Bhagavad Gita, another she's smashed up on desi daru) -- occupies a good chunk of this shlock.
Strangers in a park convey more chemistry than this heavily mismatched duo.
Back in the visibly fake basti, his three brothers named Love, Ishq, Mo (short for Mohabbat) -- because Bhai is the OG Prem, duh -- cannot marry their girlfriends (Shehnaz Gill, Palak Tiwari, Vinali Bhatnagar) until Bhai does. Too bad it doesn't take the shape of a Chalti Ka Naam Gaadi-style romp in Kisi Ka Bhai Kisi Ki Jaan's dreary scheme of things.
Instead, you have Bhagyalaxmi and her family (Venkatesh, Bhumika Chawla, Rohini Hattangadi) becoming unsuspecting targets of a vengeful villain (Jagapathi Babu) in their native Hyderabad where the latter collaborates with a Delhi land grabber (boxer Vijender Singh) wanting to settle scores with Bhai.
Neither face of evil -- Jagapathi Babu's hellish, hamming caricature or Vijender Singh's lisping-wannabe Rana Dagubatti -- lend its half-hearted menace any heft.
As the bromance shifts from North to South, so does its superficial show of culture as Bollywood knows it.
A riot of colours and actors bursting into lungi dance follow, including a blink-and-miss cameo from Ram Charan in an obvious attempt to cash in on his post-RRR clout.
Know that restless feeling of waiting for a journey to get over as the train crawls towards the final stop?
Kisi Ka Bhai Kisi Ki Jaan evokes the same emotion as it endlessly drags on peddling Bhai's never-ending list of virtues, value of virginal love, power of prayer, practicality of violence over song after song, streams of tears and chants of Vande Mataram.
Ironically, for all the action revolving around its titular Bhai and Jaan, Salman sleepwalks through a part that reiterates stereotype as his favourite genre.
As for its sprawling cast, you'll hear more from them in movie promotions than the actual movie.
While Venkatesh is undoubtedly wasted in a role that does nothing for his stardom or skills, at least he gets to have the last word and say the snooze fest's very best line: 'The End'.
Kisi Ka Bhai Kisi Ka Jaan Review Rediff Rating: