Vidyut Jammwal's latest offering Khuda Haafiz is neither entertaining nor high on action, feels Namrata Thakker.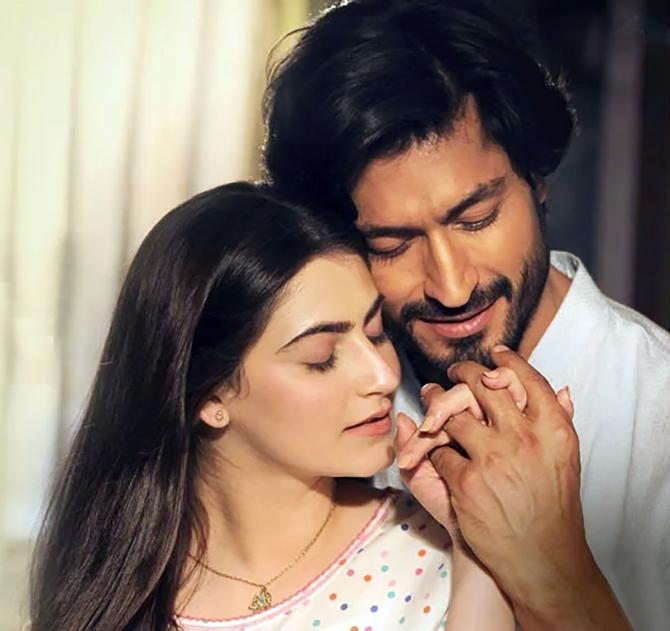 When you have an action superstar in a movie, you expect to see him in his element.
You expect high-octane action stunts, loads of car chasing sequences and some cool hand-to-hand combat scenes.
Sadly, Vidyut Jammwal's Khuda Haafiz offers nothing of this sort.
We all know the actor can kick up a storm in the action genre. But in Faruk Kabir's directorial venture, he never gets a chance to showcase his talent.
Instead, we see him as an actor struggling to hold the film with his emotions.
Vidyut Jammwal plays Sameer, a software engineer who loses his job because of the recession.
He is married to Nargis (Shivaleeka Oberoi), another victim of the recession.
The newlywed couple decide to look for jobs in a foreign country, and apply through an agent.
Nargis ends up getting an offer from the Arab country (fictional) Noman.
From the very beginning, you know the agent is shady and the story is quite predictable from there on.
Nargis goes to Noman without Sameer, and gets into trouble. She somehow manages to inform Sameer, and he of course, jets off to Noman in search of her.
Usman (Annu Kapoor), a Pathan taxi driver, helps him in his quest.
The basic story of Khuda Haafiz will remind you of the Hollywood film, Taken. In fact, the film would have probably worked much better if it was an official remake of the Liam Neeson starrer.
From the moment Sameer lands in Noman, you want him to unleash his inner warrior and fight the goons in style.
So you wait and wait in anticipation. But it never happens!
While Vidyut tries his best to carry the film on his able shoulders, he mostly fails because of the cliched story and bad execution.
Shivaleeka looks gorgeous onscreen but that's it. Her role isn't meaty enough and she hardly has any screen time.
The actor that stands out in the film is Annu Kapoor. His dialogue delivery is the best amongst all the actors.
We also get to see Aahana Kumra and Shiv Panditt in supporting roles and they do their parts well. But their Arabic accent is funny.
Overall, Khuda Haafiz isn't engaging enough.
The movie lacks in the action department big time and because of that, Vidyut doesn't shine.
Barring Annu Kapoor, everyone delivers a forgettable performance.
Still, the cinematography is stunning. Visually, the movie looks appealing and some of the scenes have been shot brilliantly.
Uzbekistan is indeed a beautiful country and while Khuda Haafiz couldn't impress me, the country is definitely on my travel list now.
Rediff Rating: