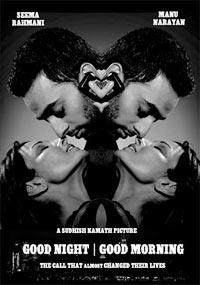 Since this Friday's release Good Night, Good Morning has our regular critic Raja Sen on screen, we thought it would be interesting to get it reviewed by a filmmaker Sen has critiqued not-too-kindly in the past. Karan Johar gracefully and gamely accepted this unusual assignment. Here is his review:
A split screen, conversation film about urban angst, quest for love and hardcore cynicism... Sounds interesting, doesn't it?
Well, 
Good Morning, Good Night
delivers on most accounts what it promises to be -- a cerebral joyride.
Set in New York, on a New Year night, the film manages to establish the harsh, emotional landscape of the subject in the first three minutes. A random call from a 'virgin caller backer', Turiya (Manu Narayan) wakes up Moira (Seema Rahmani) in a hotel room and leads to a night long conversation between the two about love, life and longing.
This 88-minute film, replete with insights about movies (
Harry Met Sally
v/s
Matrix
),
masti
(banana v/s melons) and magic (romance v\s skepticism) is very Woody Allen-esque in its concept (black and white treatment, jazz soundtrack and a geeky hero) and is predictably weighed down by the pitfall of this genre -- two characters speaking on the phone through the entire length of the narrative
.
The attempts to veer away from this monotony with spoofy flashbacks and intercuts of drunk friends don't quite make the cut. However, what really works in the film's favour is its ability to make you smile, laugh, ponder and finally reflect on the lonely lives people lead in cities.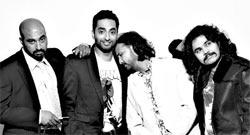 Conversation films always need the actors to infuse their real life personalities into their characters so as not to sound like 'actors' and this tightrope walk is managed very well by the lead pair. In fact, they are the lifelines of GMGN.
Seema Rahmani is riveting in all scenes but she outdoes herself when she spoofs Kajol's heartbreak scene from Kuch Kuch Hota Hai (I promise this is bias-free).
Manu Narayan showcases his versatility in flashbacks and manages effectively to portray the pathos of a geek's life without melodrama.
Raja Sen's cameo as a stone-head is extremely endearing and he looks the part. In fact, one wishes he had more to do in the film so that one could assess his outing as an actor more effectively.
Sudhish Kamath and Shilpa Rathnam weave a fairly engaging screenplay but the dialogue could have done with more wit.
The film delivers on all technical accounts and a special mention to the background score that manages to capture the mood without being intrusive.
Despite some minor shortcomings, Sudhish Kamath deserves to be lauded for attempting this novel narrative. It is extremely complicated to shoot a long drawn conversation between two characters in two different locations without losing the continuity or the essence of their repartee. Kamath manages to make you believe that you are listening in to a real phone chat and that is his victory as a filmmaker.
Rediff Rating: