Kapil Sharma: I'm Not Done Yet is truly outstanding, applauds Syed Firdaus Ashraf.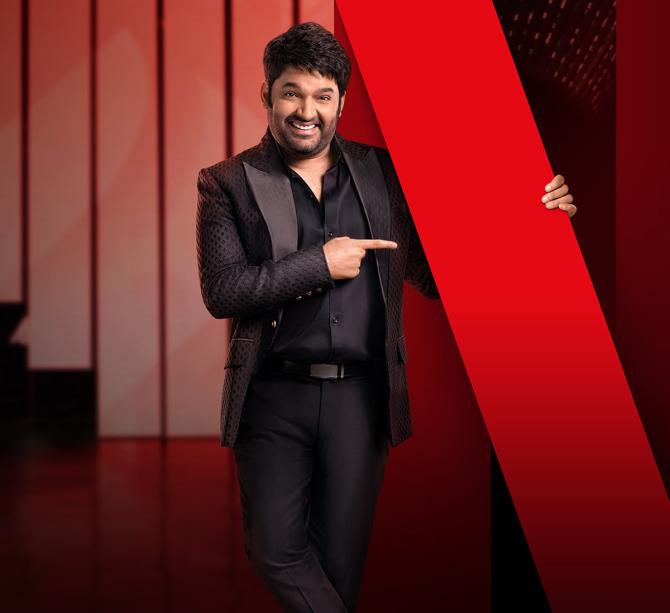 Tweeting against Prime Minister Narendra Modi is not so wise for an Indian celebrity as he will be trolled mercilessly.
Kapil Sharma discovered that in 2016, when he tweeted, 'I am paying Rs 15 crore income tax from last 5 year and still I have to pay Rs 5 lacs bribe to BMC office for making my office @narendramodi.'
To know the reason why Kapil tweeted this and the repercussions that followed, you will have to watch Kapil Sharma: I'm Not Done Yet on Netflix.
The one-hour show is Kapil's take on people he has met and interacted with, including Netflix managers.
He is also honest about his depression, and when he disappeared from our television screens.
He tells us what he was going through those difficult days, and how his dog Zanjeer was his lone companion.
The only human companion was his failed singer-turned-cook who was with Kapil that fateful night when he tweeted against Modi.
Kapil does not spare anyone including Dr Manmohan Singh, Nita Ambani, Harbhajan Singh and Rahul Gandhi.
He recalls his journey as a youngster, when he came to Mumbai to become an actor, and how he would roam on Juhu beach, hoping that a film director would spot him and give him a break.
He had only Rs 1,200 in his pocket, which got him through three months.
But he had to return to his hometown Amritsar, as a 'failure'.
He strikes an emotional chord, as he recalls how his father, a police constable, celebrated his failure with his friends.
He also speaks of how he fell in love with a rich girl named Ginni, who was driven around in a chauffeur-driven car while he rode a scooter.
Ginni, now his wife and sitting in the audience, joins in to complete his love story, bringing on more laughs.
You don't get bored even for a minute, as Kapil keeps you captivated and brings smiles to your face.
He ends up the show with a tribute to his father who passed away before his son became a star, bringing tears to your eyes.
This show is truly outstanding!
Kapil Sharma: I'm Not Done Yet is streaming on Netflix.
Rediff Rating: