Julie 2 does not rise above being a B-grade flick, says Urvi Parikh.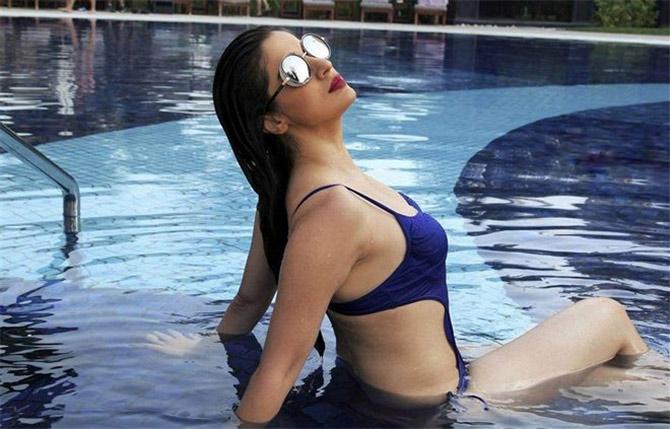 As I watched Julie 2, one question kept echoing in my head: Isn't the success of the first film necessary for the makers to consider a sequel?
That logic, however, didn't apply to whoever came up with the idea of Julie 2.
Producer Pahlaj Nihalani's sanskars probably needed a revamp post his CBFC stint.
What the reason was, I suffered through Julie 2 to ensure none of you have to endure the pain I did.
Julie 2 is a sorry fusion of Heroine and Fashion, with a generous dose of skin show.
Julie, played by Raai Laxmi, is an ambitious actress who is no longer in her prime. From a public affair with a popular south Indian star to another one with a noted cricketer who rejects her because of her promiscuous past, it all seems to point to a real life actress; it shouldn't be too tough to guess who.
But it is the cringeworthy thought process that is infuriating.
Of course, an actress doesn't have to be a virgin but there has to be a limit to the number of men she has slept with! Erm, way to go, regression!
A sickening mix of melodrama and bad acting makes Julie 2 a mess.
The actors lack finesse and, even if one isn't prudish, the film's suggestive scenes are distasteful.
The problem, clearly, is with the writing because the men in Julie's life are cardboard figures with no personality or chemistry with her.
The steamy scenes are devoid of any spark or passion, making the visuals on screen as mechanical as watching a rundown version of porn videos.
If there was a Men's Commission, there would be serious objections raised about the way men have been portrayed in this film. They seem to be repeat offenders, who are looking to grope anything female that moves.
It was a surprise to see director Nishikant Kamat in one of the roles -- he's probably the only bearable person in the film.
Raai Laxmi is half-baked and doesn't have much to do besides drawing attention to her bosom. Her portrayal is half baked.
The film doesn't show us enough about the Kevin Spaceys and Harvey Weinsteins of Bollywood. Instead, it tells a glorified tale of an abla naari whose body gets her all the work.
The climax is shabby and the twist in the tale lacks the polish that could have created an impact.
At no point does Julie 2 rise above being a B-grade flick whose mentality is stuck in the 1990s.
Rediff Rating: