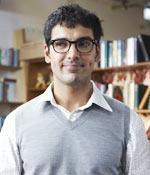 Abhishek Mande reviews Jhootha Hi Sahi music.
The Rahman factory of music that has been churning out one musical album after another has left me disappointed quite a few times recently.

So it is with some amount of scepticism I wear my headphones and hit play.

Jhootha Hi Sahi is supposed to be a story of a suicidal woman, who finds hope on the other end of a telephone line.
Justifiably then, one of the tracks is sprinkled with telephone tones as Kartik croons away Hello Hello. This might be a little too experimental for those with traditional tastes. But on the second or the third listening, the lyrics (penned by Abbas Tyrewala, who is also the film's director) hit you and you smile away empathising with most of the song. The line that stayed with me was this: Telephone ki dor se bandhi meri zindagi (My life is tied to the telephone line).
Hello Hello comes third in the track lineup -- preceded by Cry Cry and Maiyya Yashoda -- Jamuna Mix.
While the latter is a fun song with a peppy Indian beat to it, Cry Cry is hardly a song you expect a Rahman album to open with. While the lyrics of this one didn't really excite me, the music does have the trademark Rahman touch.
I've always had a bone to pick with the track arrangement in Rahman's albums, often feeling that the best tracks are usually buried in the line-up.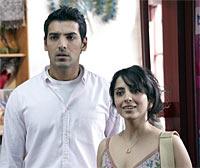 Delhi 6 is a classic case in point, where the soulful Arziyan was relegated to number two (after Masakali) and Dil Gira Dafatan was at number six in an album that had 10 tracks.
In Jhootha Hi Sahi, Do Nishaaniyan finds itself relegated to number four and Call Me Dil is at last spot. And these are the best songs in the nine-track album.
Pam Pa Ra (by Shreya Ghosal), I've Been Waiting (Vijay Yesudas) and the Thames Mix of Maiyya Yashoda (Javed Ali and Chinmaye) that come at numbers five, six and seven respectively in the album, leave a lot to be desired.
A word about the lyrics by Abbas Tyrewala: In most parts, they strike a cord and tug at your heartstrings. But in others (like in Cry Cry), they put you off sufficiently. Tyrewala is a man who knows his audiences and since perhaps I am not always the guy he is talking to, I'd leave it there.
As the bright yellow disc of Jhootha Hi Sahi stops turning in the player, the music has grown on me. Rahman isn't the god I used to worship but he certainly has a lot more up his sleeve.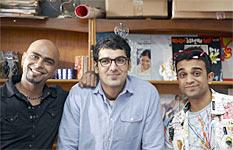 For the heck of it, this would be my suggested track line-up for Jhootha Hi Sahi:
Call me Dil
Do Nishaaniyan
Hello Hello
Maiyya Yashoda (Jamuna Mix)
Do Nishaaniyan (Reprise)
I've been waiting
Pam Pa Ra
Maiyya Yashoda (Thames Mix)
Cry Cry
Rediff Rating: