Saif is a hoot, applauds Sukanya Verma.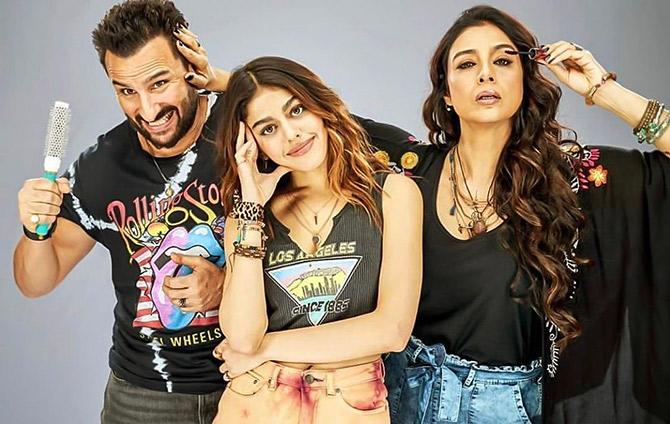 While admiring Saif Ali Khan in my review of Baazaar I wrote, 'I see a self-possessed actor whose progressing potential overshadows the conventional barometer of stardom. Too bad this realisation has to happen during an utterly ordinary, unoriginal movie like Baazaar.'
Since then he has come out with three more movies: Lal Kaptaan (intriguing but tanked without a trace), Tanhaji (wicked and major moolah raking) and now Jawaani Jaaneman, where he plays a character that is absolutely within his comfort zone, but in a manner so ripe and self-aware that it feels like a full circle.
In Nitin Kakkar's disarmingly droll fam-com, Saif returns to his Ole Ole roots.
It's as though the same character from Yeh Dillagi moved from Shimla to London, hooked up with a desi hippy at a rock concert in Amsterdam only to wake up after 21 years of bad boy bachelor life and discover he has a daughter from her.
Salman Khan's philanderer faced similar predicament in Jab Pyaar Kisise Hota Hai when his kid from a dead ex shows up at his door.
But things are differently complicated here, as the daughter happens to be pregnant herself.
The apple hasn't fallen far from the tree and, needless to say, Saif's Jasmeet aka Jazz doesn't take it too well.
It's a reaction we almost expect from the guy who cried 'I can't handle this' in Salaam Namaste.
If Wake up Sid's cartoon print T-shirts reflected Ranbir Kapoor's Peter Pan outlook, Saif's collection of Rolling Stone, Iron Maiden, Kiss, AC DC, Metallica tees underscore he has still not outgrown the Rockstar phase.
What has changed from then to now is time.
Life is kinder to carefree days of youth, and Jazz doesn't plan to let go of that feeling anytime soon.
His hairdresser, played by the luminous Kubbra Sait, says a lovely line, 'Hum zindagi ke us phase mein jahan humara past humare future se lamba hai.'
Where most would construe her words as a cue to seek an anchor, Jazz sees it as a justification to paint the town red and his hair the darkest shade of black.
A classic playboy and party animal who enjoys his bubble bath, bubbly and sprays cologne on his crotch, life is all red bull and roses.
At heart he's still a haanji-spewing, finger licking, chhole bhature gobbling desi yelping lafent at his daughter's boyfriend.
Considering his complete distaste for the family business -- 'family aadmi ko chomu bana deti hai' -- it's natural for him to throw a fit on learning about the unexpected package deal. Daddy is bad enough; grand dad is pushing it.
It's good then that Tia (Alaya F) happens to be quite the cutie and renders both Saif's guilt and change of heart an inevitability that makes their bond fun to watch.
The newcomer makes a poised debut.
She has an endearing old soul quality about her manner and how she takes in all the major stuff happening in her life.
It's a bit of a stretch, but she pulls it off.
Telling someone you are pregnant or their parent is usually a source of shrieking naheees and dramatic violins in Hindi movies, Director Nitin Kakkar skips the ballistic route, instead opting for life-like reactions to all its madcap developments and twists.
More in the moment than in your face, the humour has a refreshingly offhand quality to it.
Saif is a hoot.
Only he can almost make a move on his daughter before discovering their relationship or drive off a prospective one-night stand role playing sexy maid as kaamwali bai to avoid embarrassment before his colleague's parents and get away with it.
Jawaani Jaaneman's other great achievement is it doesn't allow you to miss Tabu who doesn't appear until three fourths of the movie.
As Tia's super stoned Mum, Tabu plays a force of nature hung up on cosmic energy and chakras while rolling a joint as casually as one unwraps candy.
It's a wacky cameo and the talented actress portrays it in just the frivolous vein it demands.
Wonder why Jawaani Jaaneman does not allow the same leeway to its leading man.
Its need to tame its unapologetic protagonist and force him into domestication feels a bit of compulsion.
He has created a sense of family in his best friend and business partner's (a perfectly affable Kumud Mishra) but unless it's his own, it doesn't count?
A film can be set in London or New York but desi ideas of settling down appear to be the foremost prerequisite for a blissful future.
In Kal Ho Naa Ho, a terminally ill Shah Rukh Khan can't marry the girl he likes but must ensure she settles down by fixing her up with a guy he knows will give her everything he cannot.
Incidentally, the guy happens to be Saif Ali Khan.
As one amusing scene suggests, the no-strings attached life is a fantasy only the likes of Feroz Khan can accomplish.
So there's Chunky Pandey as Jazz's lonesome, partner-in-merriment who must burn his fingers so he doesn't. Not to mention a sub-plot involving a tree, but of course, symbolic of roots and fruits, solid but stationary when all Jazz wants to be a bird not a branch.
For a movie that seems to have swallowed a chill pill (along with a magic one), its last-minute turnaround as a cautionary tale for single folk and T-shirt lovers is unexpected and disappointing. Is it not enough that Saif settles down, his wardrobe must too?
To quote a line from the Namak Halal song inspiring its clever title, 'Shikaari khud yahan shikar ho gaya, yeh kya sitam hua, yeh kya zulm hua.'
Rediff Rating:

---
Sukanya Verma is the Principal Movie Reviewer for Rediff.com. She can be contacted at mailto_sukanyaverma@rediffmail.com
---