Jai Mummy Di is very forgettable, feels Namrata Thakker.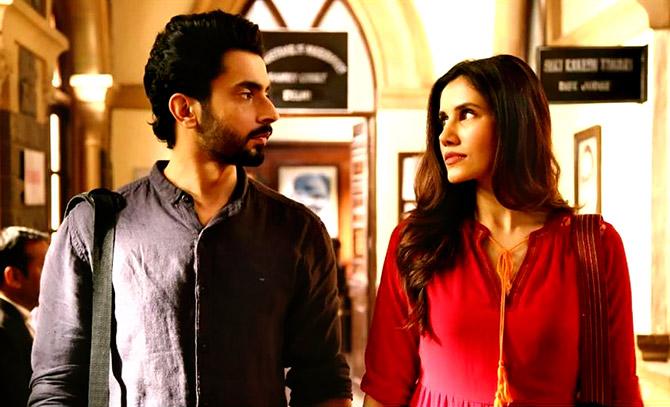 Sunny Singh's last outing Ujda Chaman was a dud and his latest film Jai Mummy Di isn't any better.
The film is exactly like the trailer, there's nothing more.
Yes, there is nothing more to the story than what you see in the trailer.
Navjot Gulati's directorial venture Jai Mummy Di is about two families at loggerheads with each other.
Puneet (Sunny Singh) and Saanjh (Sonnalli Seygall) are childhood sweethearts but part ways because their mothers cannot get along.
The reason: There's a secret that no one knows.
But trust me, it's totally not worth finding out.
At one point, Puneet and Saanjh opt for a court marriage but back off as 'court marriages are not that successful'.
Yes, you read that right.
Next, they decide to marry other people on the same day, despite still being in love.
Of course, there is a predictable happy ending but it doesn't make Jai Mummy Di a pleasant watch.
The story is neither interesting nor engaging.
Apart from a few one-liners which tickle your funny bone, there is nothing comedic about this rom-com.
In fact, the movie gets so boring after a point that even one hour 43-minute run-time seems long and exhausting.
The only good thing about the movie are the catchy songs Lamborghini and Mummy Nu Pasand.
Sonnalli looks pretty onscreen but when it comes to acting, she has a long way to go. Her co-star Sunny Singh tries hard to make the film work but fails miserably.
Yes, he has done romantic comedies before and nailed them too. But it's high time Sunny starts experimenting with his choices rather than stick to just one genre.
As warring mothers, Supriya Pathak and Poonam Dhillon have been perfectly cast. But their characters aren't well-written and they hardly do justice to their caliber.
The rest of the cast does not add any value to the story.
First-time director Navjot Gulati does not impress with his project.
But Jai Mummy Di is so forgettable that he can start all over again.
Rediff Rating:

---
Namrata Thakker has been covering the entertainment beat for more than seven years and has quite the eye for celebrity fashion. She can be contacted at movies@rediff-inc.com
---