More emotions, less action!
Ajay Devgn shows his vulnerable side while trying to survive on an uninhibited Island with Bear Grylls, observes Namrata Thakker.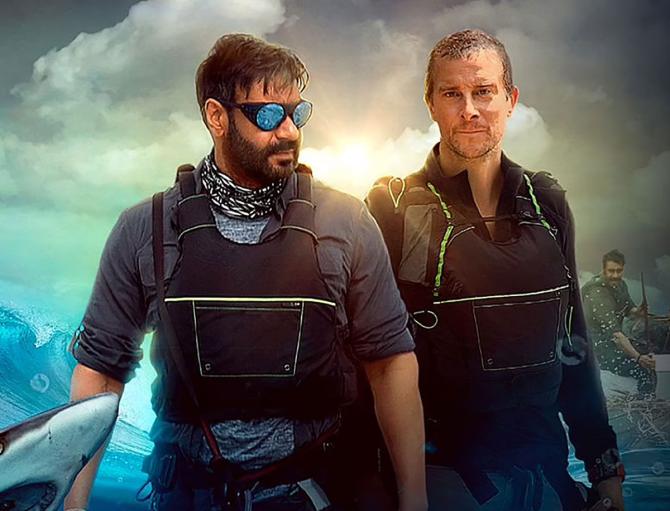 Survival expert Bear Grylls is back with his popular television show Into The Wild and the first episode of the new season features Ajay Devgn.
Ajay goes on an adventure with Bear in the middle of the Indian Ocean and learns how to survive on an uninhibited Island.
First off, he makes a smashing entry on the show as he jumps into the ocean waiting for Bear to join him.
From there on, the adventure part takes a back seat and instead we see Ajay's vulnerable side as he talks to Bear about his late father -- action director Veeru Devgn -- and his children Nysa and Yug.
For a change, it's nice to see Ajay showcasing his emotions and talking about his life away from the movie arclights.
Ajay reveals that his father had suffered from Alzheimer's. He also goes back in time to reveal how his father had gotten 45 stitches on his head during his early days as a stuntman.
Later, when Bear asks him about his children and whether they will enter the showbiz world like him, Ajay says daughter Nysa isn't too keen and son Yug is too young to decide about his career.
During the 50-minute episode, Ajay gets encouraging messages from his friends and family for taking up the wild ride.
While Anil Kapoor and Rohit Shetty's messages add the fun quotient, Kajol's message is the most exciting.
Kajol challenges her hubby to touch anything gross or slimy that he finds on the island.
Why?
Well, she revels a few things nobody knows about Ajay.
First, he is a fabulous cook and second, he has borderline OCD when it comes to touching things with his fingers.
Who knew, right?
Ajay tells Bear that he eats his food using a fork and spoon because of this reason. The very next minute, Bear asks him to eat raw fish with his hands.
Of course, after some hesitation, Ajay complies.
We also see him build a raft and walk in knee deep water with baby sharks around.
But that's hardly any action or adventure compared to what Ajay usually does in his films.
Bear's team could have made the episode more interesting by testing Ajay's skills and putting him in dangerous situations. But that never happens.
We never get to see the action superstar in ACTION mode and that's a big let down.
If you are a die-hard Ajay Devgn fan, watch the episode to see his endearing, emotional side.
But if adventure is what you want, skip it.
Instead, watch Akshay Kumar's episode with Bear from last year. Or even better, just catch an Ajay Devgn action movie.
Into The Wild With Bear Grylls & Ajay Devgn currently streams on Discovery Plus.
Rediff Rating: