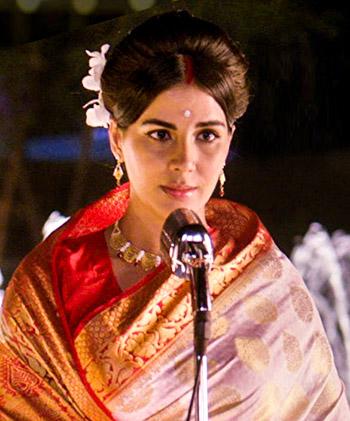 Indu Sarkar is an effective propaganda movie only to the extent that it knows its mission statement and knows whom to shame and whom to take in its stride, feels Sreehari Nair.
The homosexual characters that usually populate Madhur Bhandarkar's movies have been replaced by Sanjay Gandhi's cronies.
In Indu Sarkar, Bhandarkar's latest, we get the scaled-down, stuffed-toy versions of Kamal Nath, Jagdish Tytler and Rukhsana Sultana.
If he was guilty of approximating effete behaviour in his early films, Bhandarkar gives us his assumptions on 'power' and 'subservience' here. He wants to bring down an entire section of the country that chose to be spineless during the Emergency of 1975: he also sees as their spiritual successors 'those' who're now talking about intolerance.
'Where were you, oh award-returning revolutionaries, when the biggest hijacking of democracy happened in 1975?' the movie wants to desperately ask. It's a question Anupam Kher has been asking for over three years now (Kher, in addition to his cameo appearance here, also supplies the spirit of the film).
This competing-for-tragedy attitude has been the popular Right-wing counter to any questions related to intolerance. That there were no easy responses possible to this attitude only complicated matters.
With the release of Indu Sarkar, a Right-wing propaganda movie, the Right has in a way answered its own question. That such a movie, which clearly punctures its opposition -- it doesn't just document a tragedy but also systematically names its perpetrators -- had a smooth, no-alarms-raised theatrical release must teach those from the Right something about tolerance and intolerance.
If there's something good to be said about Indu Sarkar, it's that the movie isn't among Madhur Bhandarkar's worst. It is, in fact, only three or four notches below his best effort Chandni Bar.
In Chandni Bar, Bhandarkar had worked with Rajeev Ravi to create an eerie sense of place. Indu Sarkar is soaked in dreamy browns: the film is styled and lighted so as to tap into our memories of 1980s' Doordarshan shows.
Bhandarkar starts off all eager to tell us that this is 1975; he screams it out with Deewar posters, references to Bobby, and the Sadhana cut: somebody did tell him about the term 'eye for detail' and he wants us to know he has it.
However, once the drama in the story takes over, Bhandarkar becomes relaxed and with his penchant for showing off now vaporised, we can actually enjoy the little nods: like that blurred imagery of Dalda cans in the kitchen scenes.
Also, it doesn't seem to matter to Bhandarkar that he is taking on a period of Indian history previously recreated in one of the greatest movies made in this country, Hazaaron Khwaishein Aisi (this lack of benchmarking gives Bhandarkar's film an air of casualness).
Indu Sarkar is essentially a cops-and-robbers version of Sudhir Mishra's masterpiece. The film has Neil Nitin Mukesh doing a sniggering imitation of Sanjay Gandhi. The lust of power rises through his neck and comes out of his eyes: he's a total baddie!
Neil's Gandhi also has a five-point-programme -- which in reality was a fascistic programme based on good intentions -- about which Bhandarkar wouldn't tell us more.
And how can he? After all good intentions tending to fascism isn't a sin attributable to Congress alone.
In fact, Bhandarkar knows that getting into all that would take the edge off his cops-and-robbers tale. He wants to make a straight Exploitation movie, a straight Propaganda.
So he lets Neil Nitin Mukesh phrase his lust of power-speeches in typical Neil Nitin Mukesh-like utterances where the commas and the full-stops get frequently interchanged. He plays Sanjay Gandhi but talks like Sonia.
The film though isn't about Neil Nitin Mukesh but about the radiations he emits, which affects most of all, its protagonist Indu (Kirti Kulhari).
Indu's a housewife, a wife of a high-ranking government official who's overseeing the Turkman gate demolition of 1976. She stammers in her tongue-voice and her brain-voice squeaks clean (This clearly is not a blooper but a conscious decision).
The basic plot of Indu Sarkar is about Indu stepping out of her courtyard and slipping down a rabbit-hole only to be pulled into an underground activist movement that's planning to overthrow the oppressive government.
The meek Indu turning political creates tensions in her private life. Her husband Mr Sarkar (Tota Roy Chowdhury) wants to keep having her Daldas, but wouldn't like it if she stopped buttering the government that's providing for his scotch.
Most of Indu Sarkar's achievements are incidental. The Right-wingers in the film are as 'neat' as today's liberals: they have the same one-tone perspective of complex issues such as misogyny and corruption, and the same degree of self-righteousness. Without even intending to, the film issues a warning that the Right-wing today plays by the same polemics that have long defined the Left.
In effect, the film tells us that if liberals don't give up their self-righteousness and if they don't extend their bounds of empathy to accommodate the worst of human failings, there'll be little separating the two camps.
Indu Sarkar is an effective propaganda movie only to the extent that it knows its mission statement and knows whom to shame and whom to take in its stride. Most of the oppression stories are calculatedly heaped on the Muslims: the film has a message for the community.
Bhandarkar tries to, but cannot get away from his tendency of veering toward Exploitation: he is too charged by it. If there's something truly Right-wing about him, it's the incessant sensationalising.
The scenes of torture and police oppression are mounted so as to sock you between your ears. The catty female characters all get moony-eyed and start levitating when the male characters assert their supremacy. There's something kinky about Neil Nitin Mukesh acting powerful just so that his 'friend' Farzana can leave her chair and start floating.
Bhandarkar wants us to see the connections between political muscle and S&M. He gives us more than any government white paper would have dared to!
In a movie deeply concerned with public good, the extras are all made to mime in chorus: Bhandarkar was too concerned about the lead players to give any directions to those in the crowd.
And the lead players themselves don't get to discover any humanity within Bhandarkar's unpleasant vision of the world: he vasectomises them.
Tota Roy Chowdhury is a fine actor but the narrative of the film works to progressively drain off his individuality.
The movie does not do justice to Kirti Kulhari's prodigious talent either. Bhandarkar has clearly cast the actress for her melancholic face, and he then tries to cash in on that single aspect in every scene. If Kulhari does move you, it's because she manages to create a personal roadmap for her character.
There are only two performances of any shading: Sheeba Chaddha, as the grieving mother who manages to rise above her stilted lines, and by the actor who plays Tota Roy Chowdhury's boss: there is tenderness in his desperation that somehow becomes the spirit of that age.
Indu Sarkar opens with the declaration of Emergency but its true beginning-point is a disclaimer proclaiming it as a work of fiction bearing nothing more than a chance resemblance to people, places, and events.
I found that disclaimer to be less of a mandatory insert and more an apology for the film's artlessness.
Rediff Rating: