Indoo Ki Jawaani is fun while it lasts, discovers Joginder Tuteja.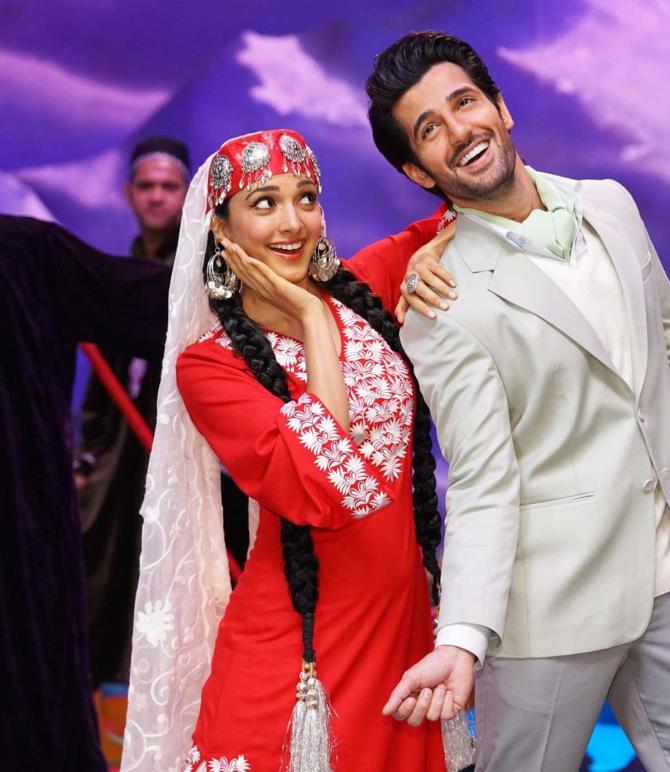 There is something about Kiara Advani that stands out.
She may have been noticed by audiences in one segment of Lust Stories, but check out her song and dance performance in Machine (a film which I bet most wouldn't have seen) and you would know the sparks were all there.
In fact, she had registered her presence in her debut movie Fugly too.
Over a period of time, her spunk has been evidenced in Good Newwz and Kabir Singh.
She didn't have much to do in Laxmii, but one couldn't take one's eyes away from her in the song, Burj Khalifa.
No wonder, she's carrying an entire film on her shoulders, Indoo Ki Jawani.
The girl knows she's is a head-turner and that's what made her a good casting choice for first-time Director Abir Sengupta.
As a girl who loves to talk and is inquisitive about getting into a real relationship with a guy, Kiara is quite relatable, especially amongst the college going Tinder generation.
She has her own reservations around the going trend though, and this is where her friend Mallika Dua comes up with advice from time to time that leads her to hooking up with the best of the best in town.
In comes Aditya Seal and while he does appear as the man of her dreams, it is his Pakistani identity that turns out to be a deterrent. More so since a terrorist is on the loose and the comedy of errors leads Kiara to wonder if she is harbouring the suspect on her watch.
There are quite a few entertaining moments in the film. Like, the beginning where the entire neighbourhood seems to be rooting for Indoo from the point where she begins her hunt for Mr Right to Aditya's arrival to the confusion that follows and then the ultimate resolution.
Kiara looks gorgeous in the songs and dances.
Aditya also ensures that he makes his presence felt. Just a few months ago, he was seen in a short film Forbidden Love on ZEE5, where he had a similar part to play. Though that took a serious turn, this one is more fun.
Indoo Ki Jawaani is fun while it lasts.
It's not the kind of film where you end up rooting for days, but while you watch it, it's quite engaging.
Rediff Rating: