The second season of Illegal is neither gripping nor realistic, rues Namrata Thakker.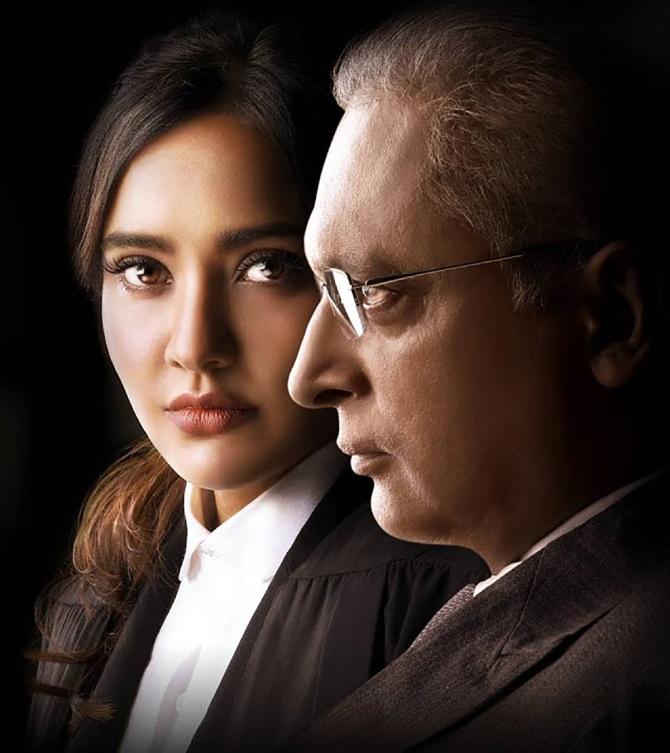 Despite many loopholes, Neha Sharma and Piyush Mishra made season one of the courtroom drama Illegal worth watching.
But the same cannot be said about season two.
The show begins with idealistic lawyer Niharika Singh (Neha Sharma) starting her own law firm with public prosecutor Puneet Tandon (Satyadeep Misra).
Since they are a new company, Niharika is on the lookout for clients and she almost manages to get one when a woman approaches her at a party for legal help.
The woman gets killed and the accused is said to be a 15-year-old boy.
Niharika decides to defend the boy as she feels he is innocent despite him being a online stalker and a bully.
It's an interesting premise to start off with but the makers don't capitalise on it.
We quickly see the characters move on to the next case.
Niharika's arch enemy and ex-boss Janardhan Jaitley (Piyush Mishra) isn't done with her and makes her life hell using his power and stature.
Then we have Akshay Jaitely (Akshay Oberoi), who is still at loggerheads with his ex, Niharika.
Their love-hate relationship continues almost till the end and just when we think these two have let bygones be bygones, they are back to square one.
In season two, we get to see Parul Gulati (Devika) and Kriti Vij (Sue) get more screen time, but their characters are poorly written.
Devika as Akshay's estranged wife still lends support to the story but Sue's character hardly makes a difference in the larger scheme of things.
There are some more characters from season one, which have been retained but they don't bring anything to the table.
Tanuj Virwani joins the cast in season 2 and plays Neha Sharma's love interest. But their chemistry is dull.
Most of the actors are below average, acting wise, especially Neha Sharma. She is loud and fails to make a connect in the emotional scenes.
Though Niharika is going through a lot in her life, you just don't empathise with her character.
Akshay is just about average and so is Piyush Mishra.
Story wise, it seems the makers came up with season 2 only because they wanted to lay the foundation for season 3.
Some of the cases get solved even without going to the court and the rest don't keep you interested enough to binge-watch the series.
The direction and execution is poor.
A lot of the scenes end abruptly while the characters are still saying the dialogue.
In fact, season 2 seems to be shot in a hasty manner.
It doesn't make any impact nor is it worth your time.
Yes, a few twists and turns do spring up in the later episodes and the makers redeem themselves a bit but by then, it's too late.
Illegal 2 streams on Voot Select.
Rediff Rating: