Hunter Tootega Nahi, Todega is bizarre, unintentionally funny, discovers Deepa Gahlot.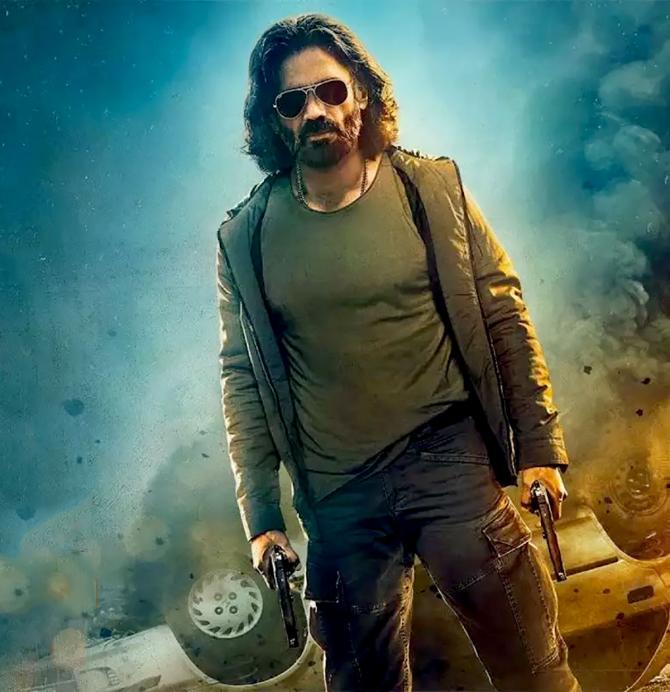 The guy is shot at, stabbed, blown up, has a kidney extracted, but all he does is grimace and come up with some stream of consciousness philosophising.
The odd title explains a lot -- Hunter Tootega Nahi, Todega -- and Suniel Shetty is unleashed as the indestructible 'superman' who can fight a killer even when handcuffed to a hospital bed.
The series with a star cast (by OTT standards), comes out on Amazon MiniTV, maybe to boost viewership of the heretofore neglected platform.
The junkie ACP Vikram Sinha, sporting a beard and untidy man bun, has crawled out of the catacomb where the bones of hundreds of hard-boiled maverick cops are buried -- lone ranger with a broken marriage and substance abuse problems, who is never seen at work but frequently goes on murderous rampages, accompanied by a soundtrack of old Bollywood song remixes.
The weirdest use of Rang Barse would be at a massacre in an abattoir and Jeena Isi Ka Naam Hai, when there are dozens of corpses on the floor (one of the unsolved mysteries of action sequences on screen, when faced with superior strength, why do villains' henchmen keep offering themselves up for slaughter?)
The series, based on Saurbh Katiyal's novel The Invisible Woman, directed by Prince Dhiman and Alok Batra, is bizarre, unintentionally funny, but, to its credit, not boring. It is also unpredictable within that noir universe of corrupt cops, drug lords, human traffickers and organ traders.
Vikram, who has a side hustle in tracing missing persons, finds himself in trouble when he takes the job of looking for a woman (Smita Jayakar), who does not even seem lost.
The cop, who belongs to the 18th century, according to his pet hacker Sid (Mihir Ahuja) is accused of murdering her on the basis of a deep fake video. During the series, in a cute subplot, Sid meets a Tinder date (Gargi Sawant) who is a better hacker than him, and the boy is smitten!
Vikram acquires a sidekick, a reporter, Divya (Esha Deol in an unflattering wig), and a foe in the form of Haryanvi-speaking cop, Hooda (Rahul Dev), and killer doctor (Siddharth Kher).
His ex-wife Swati (Barkha Bisht) still has feelings for him though she has a lover, (Karanvir Sharma), who is Vikram's most loyal ally.
You wouldn't expect a lecture on Gordian knots in a crime show, but there it is, delivered by Swati to explain the relationship. Also, the meaning of 'catalyst' is explained for those who may have forgotten their chemistry lessons.
Vikram has to find out what's going on, when the count of dead and missing people jumps abnormally high. The only reason he does not die, in spite of multiple attempts, is because a Season 2 is promised with a new villain -- a star, who summons his 'bhidu' to visit with vada pao and garlic chutney!
The show is slick -- that much can be expected these days -- with a lot of bloodshed but mercifully, not too much vulgar swearing.
Suniel Shetty may not have a wide range of expressions, but that's precisely why he easily fits into the part -- a disaster-prone 'Hunter' who tried to express his emotions would have been unbearable. Here, his fists do most of the talking.
Hunter Tootega Nahi, Todega streams on Amazon MiniTV.
Hunter Tootega Nahi, Todega Review Rediff Rating: