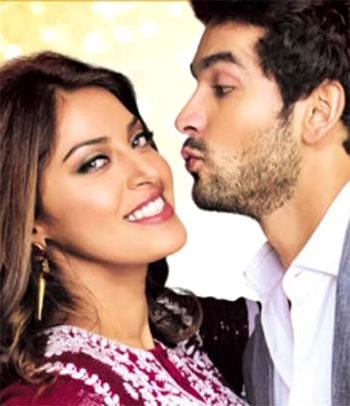 The music of Wedding Pullav isn't exceptional but it seems to go well with the story, says Aelina Kapoor.
Wedding Pullav is about, well, a wedding, and composers Salim-Sulaiman come on board with lyricist Irfan Siddiqui to make the music.
Party Karni Hai starts the album, with a Honey Singh-kind of song and lyrics, 'Jitni Bhi Botalein Hain Woh Khaali Karni Hai, Mujhe Party Karni Hai.'
Salim Merchant and Apeksha Dandekar don't get as naughty but they do promise to get drunk and make merry with this dance number.
Salim Merchant, Shreya Ghoshal and Raj Pandit get together for a love song called Oh Jaaniya. A well rendered number, it makes Wedding Pulao come across as a much more multi-layered than what one imagined from the opening number.
In the same mould arrives Naseeba and Sunidhi Chauhan makes sure you do give her an attentive hearing. From singing dozens of item numbers till four-five hears back, she has done well to step away from that arena.
But this also means that it has been a while since she delivered a true blue chartbuster, a song like Naseeba, which has been composed and written well, at least keeps her credentials strong as a singer. No wonder, even newcomer Sreerama Chandra takes advantage of the opportunity and sings the reprise version.
Arijit Singh takes a break from singing his trademark romantic numbers and goes easy with the title song, The Wedding Pullav. He pairs up with Salim Merchant and delivers a foot-tapping feel-good number which has a good mix of rhythm and melody.
Meanwhile, new find Vipul Mehta and Shalmali Kholgade let their hair down for Ishq Da Panga, which is straight out of the Salim-Sulaiman territory. A quintessential Bollywood track that never really fails and keeps you interested in the proceedings, this one has a Punjabi base to it and turns out to be the filmiest of them all. Really, it could well have been the opening number of Wedding Pulao.
Newcomer singers Digvijay Singh and Minal Jain come next with Banjaare, which is just passable.
Raj Pandit's Lagan Lagi is in the same zone.
The music of Wedding Pullav isn't exceptional but it seems to go well with the story.
Rediff Rating: