Helmet's sole attribute are its three actors.
Aparshakti Khurana, Abishek Banerjee and Ashish Verma have an effortless witty quality and breezy camaraderie, observes Sukanya Verma.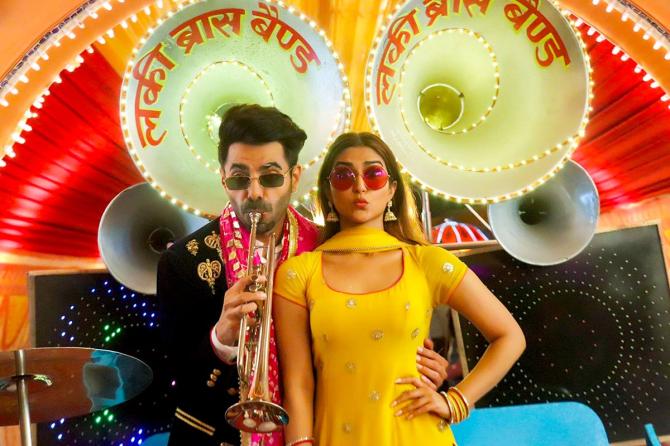 India's population explosion is a genuine problem and forms the indirect focus of director Satramm Ramani's comedy as emphasised in the figures of Helmet's opening and closing credits. But likening a robbery of condoms to the Quit India Movement revolution is taking its campaign to another level of absurdity.
Produced by Sony Pictures and Dino Morea, Helmet is a public service announcement masquerading as a buddy-com that feels like it was conceived in the early 2000s when HIV's spread and dread was at its peak.
The upshot is a bumpy mix of amusing and preachy.
Always the bridesmaid never the bride, Aparshakti Khurana, Abhishek Banerjee and Ashish Verma take a break from the leading man's goofy buddy duties to play each other's.
Khurana's Lucky wants to marry a wedding florist (Pranutan Behl) but her class conscious dad (Ashish Vidyarthi) is against the match.
Banerjee's Sultan works at a poultry farm and owes money to an ailing local thug (Sharib Hashmi).
Verma's Minus is hard of hearing. Their respective personal crisis colours their moods and motivation.
In this small-town story set in Uttar Pradesh, the lack of job prospects prompts a wannabe music band to rob a truck full of mobile phones, sell it off and become rich. Except the cartons turn out to be full of condom packets.
How they unload this unwanted merchandise as though Tupperware underscores Bollywood's understanding in marketing.
At the heart of Helmet, often an innuendo filled slang for protection, is a fun, farcical idea taking centre stage against the backdrop of an Aids Awareness NGO's failed attempts to educate individuals about birth control as well as the shame and embarrassment associated in uttering the word, quite in the same vein as Padman.
But Ramani's inability to bind its satire and look beyond sexual metaphors never allows Helmet to be the bag of laughs and learning lessons it wants to be.
Instead, things get ridiculously sanctimonious and melodramatic when the focus suddenly shifts on the plight of sex workers, characters crying hoarse about sexually transmitted diseases and orphans lamenting over lack of condoms.
Helmet's sole attribute are its three actors.
Khurana, Banerjee and Verma have an effortless witty quality and breezy camaraderie.
They do what they do best. But it won't be enough to stop India from overtaking China's population.
Helmet streams on Zee5.
Rediff Rating: