Terrific actors, along with a simple, well-executed, story, makes Gullak 2 a must watch, applauds Namrata Thakker.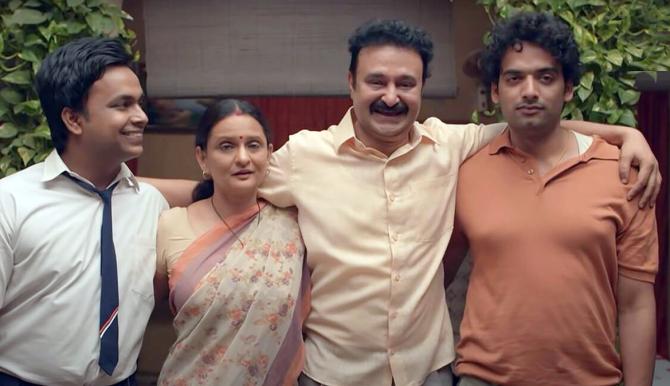 Palash Vaswani's em>Gullak 2 is an absolute delight and as entertaining as season one.
In the new season of the heartwarming TVF series, we see our favourite Mishra family tackling different problems but with the same amount love, humour, sincerity and emotions.
While Shanti (Geetanjali Kulkarni) learns to love herself, her husband Santosh (Jameel Khan) almost decides to accept a bribe but gets saved by Amrit wali kheer.
Their elder son Annu (Vaibhav Raj Gupta) is unemployed, but he tries hard to establish himself in every way possible.
Annu's younger brother Aman, on the other hand, is getting ready for his board exams.
Though he comes across as naive and foolish sometimes, Aman really is the dark horse here.
The problems this middle-class family faces is something we have all been through.
So the script isn't extraordinary, but it is very relatable and perfectly executed. That makes Gullak 2 an enjoyable watch.
Every character has been etched out beautifully and they all bring something magical on screen.
Geetanjali Kulkarni is fabulous as Annu and Aman ki mummy.
There are times you feel for her and then, there are times she is completely crazy. But that is relatable too.
In fact, all the principal characters have that familiarity and that's what works wonders for the show.
Jameel Khan as the funny, adoring and polite father will have you rooting for him.
Vaibhav Raj Gupta as Annu showcases his versatility as an actor. The range of emotions and how he displays them is truly commendable.
And then we have Harsh Mayar as Aman, the soul of Gullak 2.
His comic timing and expressions are bang on every time. He even stands out in scenes where he doesn't have any dialogues and yet, you can't ignore his presence.
All these terrific actors, along with a simple, well-executed story, makes Gullak 2 a must watch.
A special shout-out to Sunita Rajwar for nailing her small part to perfection.
Kudos to the makers for ending season two on a high emotional quotient, which was surprising but pleasant.
Amidst all the OTT platforms flooded with political or psychological thrillers, Gullak 2 is a refreshing change.
It is a show that will strike a chord with all age groups irrespective of the gender and that is its biggest USP.
So do yourself a favour and watch Gullak 2 with your entire family this weekend.
Rediff Rating: