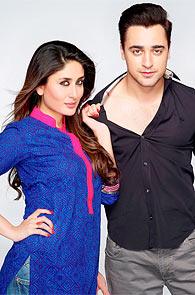 Gori Tere Pyaar Mein is essentially two different films separated by an intermission, writes Paloma Sharma.

On the poster of Gori Tere Pyaar Mein, Imran Khan and Kareen Kapoor Khan sit on opposite sides of an unfinished bridge with the words 'Only love can bridge the gap' written below them. If only the director had been able to perform the same function.

Gori Tere Pyaar Mein is essentially two different films separated by an intermission, with a few, weak common threads between the two.

Sriram Venkat (Imran Khan) is a US-returned architect who cares about no one but himself. He has no ambitions in life other than living comfortably.

Dia Sharma (Kareena Kapoor Khan) is a Punjabi 'charity worker,' who has devoted her life to bettering the world.

Sriram is shallow. Dia is an inch away from enlightenment. Their paths cross.

But is it meant to be?

The first half of the film begins with some glycerin-induced tears and less than two minutes later, your senses are assaulted by Imran Khan and Esha Gupta (yes, random famous people also show up here) making out in a club to the lyrics of a song so absurd that I won't care to repeat them.

The torture continues.

Sriram's parents decide to marry him off in order to make him more responsible (because, hey, that's the sensible thing to do). This is where Sriram goes from architect to serial flashback-er. He tells his bride-to-be, Vasudha (Shraddha Kapoor), about his relationship with Dia -- which is a most appropriate thing to do, especially since Vasudha is in love with someone else.

The flashbacks go on and on, even though they weren't needed. An hour and half into the film and you're still waiting for it to start.
However, if you can survive the first half of it, you're in for a time-pass treat.
The second half of the film is like Karan Johar's version of Lagaan -- villages are pretty, villagers are prettier and everything is sparkly clean. However, at least the story is intriguing, even though it does remind one of Ramaiva Vastavaiya.
Despite being a little corny, Sriram's transformation and his search for a deeper meaning to his materialistic existence is an enjoyable watch. Add to that a couple of gags here and there, Anupam Kher as a corrupt collector and the lovely Naina, sung by Neeti Mohan and Kamal Khan, and you have an entertaining combination.
The trouble with Gori Tere Pyaar Mein is that this film seems like you've seen it somewhere before. It feels like a spin-off of Ek Main Aur Ek Tu with a different setting but similar characters and a similar story.
Imran Khan plays Imran Khan (again) and not Sriram Venkat. Khan is awkward unless he's giving you his chocolate boy smile or looking forlornly into the distance.
Kareena Kapoor Khan is several shades better. She's believable for the most part except when, being an activist, she does a dance number whose lyrics describe how lovely her derriere is in quite a few analogies.
Anupam Kher is fabulous, as usual, as is the little boy who kept trying to steal Sriram's sunglasses every chance he got.
The soundtrack, especially the lyrics, is best not spoken about except for Naina (which I'm playing on loop ever since I've watched the film).
Gori Tere Pyaar Mein is two hours and 28 minutes long and follows a non-linear narrative. This was absolutely unneeded. Despite all the flashbacks, the story was predictable and the first half could have been cut down significantly. This film is a case of shoddy editing, writing and direction.
Gori Tere Pyaar Mein's saving grace is that it is a love story and the second half will manage to melt your heart, if only slightly. It's the classic opposites attract story and hey, if you're into that kind of thing, this might be your kind of film.
Rediff Rating: