Beset by a Princess Syndrome in the past, Kareena Kapoor reigns over this pandemonium like a stately queen, feels Sreehari Nair.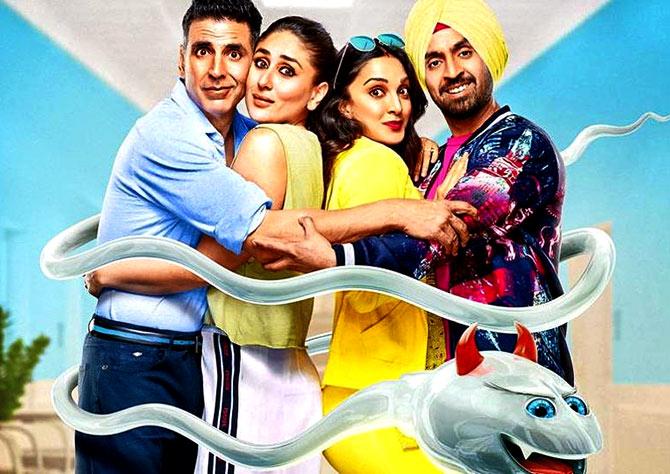 All through Raj Mehta's Good Newwz, Kareena Kapoor seems to be demanding: 'Give me a film more worthy of my magnificence!'
While everyone else in Good Newwz gets to say their share of punchlines, Kareena gets none. Nor is she allowed any obvious tomfoolery.
In a film where everyone else alternates between parading their comic chops and trying to knock you down with the force of their sentimental acting, Kareena's is a performance of more than just surface pleasures.
She gives her character of Deepti Batra, a sense of the Self-same, a persistence of identity.
In a movie environment of every person attempting to out-zany the other, it takes an actor with some grasp of her own inwardness to connect her character's complex realities and modes of behaviour, to a single consciousness.
When Kareena's Deepti Batra, with faux moony eyes, welcomes her husband Varun (Akshay Kumar) home, her actions perfectly correspond to that of a film journalist with self-esteem issues (which is her professional reality).
The Deepti Batra, who threatens to sue the doctor responsible for goofing up her IVF implant, is the same Deepti Batra who later responds to her mother-in-law's ill-timed cutesiness with a 'Shut up, mom!'
In the way she interacts, it becomes clear to us that Deepti can handle the excesses of only one man at any given point, and that she finds the company of women more emotionally fulfilling.
This intensely vital sense of personality that Kareena Kapoor gives Deepti is what sustains Good Newwz through its moments of mirth and facepalms.
Many of us may have long expected Kareena to deliver a performance of such understated magnificence.
But in our extreme expectations, we had also ended up anointing her the Princess and, for the longest time, it was she who paid for our obsequiousness, with mannered acting.
But now, free from keeping any image, and bored of being over-noticed and having her personal life over-scanned, Kareena Kapoor has turned into a terrific behavioral actor.
In this film, she isn't aiming to hit scenes out of the park or give us an immediate lump in our throats.
Instead, she finds just the right physical manifestations for every psychological zone her character enters.
In being almost indivisible from the air that surrounds her, Kareena brings to many sequences, Context, in a movie that could do with some.
This is otherwise a lazily detailed, shabbily staged film, where an apartment seems chosen for the only reason that it can be lit well.
There are moments where Deepti Batra seems to almost resent the atmosphere of self-conscious clowning that she has been thrust into. At one point, she says, as if breaking the fourth wall: 'Kya Jokergiri hai yeh?'
You only have to pay close attention to Kareena and her performance to understand what plagues a proper mainstream film like Good Newwz: the movie's inability to find that one dramatic core out of which all its tones can emerge.
The plot, as evident from the trailer, is about two childless couples (sharing the same surname), who pursue IVF, and who then have to deal with the reality of their sperms getting interchanged during implants. The setting is delicious in a two-dollar sort of way, and the makers of Good Newwz do show some imagination in turning this setting into a comedy about class differences.
To offset the refinement of Batras 1 (the Kareena Kapoor-Akshay Kumar jodi), the writers introduce the crude, loud-mouthed and soft-headed Batras 2 (Diljit Dosanjh and Kiara Advani).
Now, the problem with focusing too heavily on the class difference angle is that the Diljit Dosanjh-Kiara Advani relationship gets played out only for laughs and this foreshortens its dramatic conception. Except for one casually thrown in scene, you really don't get any sense of the marital tension that may have come about owing to Dosanjh's Honey obsessing over Deepti Batra's baby bump.
There really isn't much going for Batras 2, and any interest vested is owed to a few small victories.
Kiara Advani, as previously demonstrated in Lust Stories, comes across as someone not averse to humiliating herself in front of the camera -- which isn't a small virtue for an actress to possess.
Diljit Dosanjh, who always escapes my attention because he seems to merely strengthen the stereotype of the Happy, Ebullient Sardar, is effective here in scenes where he loses it, or when he's consumed by the feeling of his happiness being suddenly undercut.
Watch out for the scene when he beams at the news of his wife's pregnancy, and then, upon quick recalculation, how his smile dies (The transition has something of the grace of a parade balloon losing air in mid-flight).
Dosanjh is on par with everyone else in a terrific scene set inside the IVF Hospital, where Adil Hussain's Dr Joshi and Tisca Chopra's Dr Mrs Joshi explain the whole implant fiasco. The beauty of that sequence is in how, with the introduction of the Joshis, Good Newwz abruptly turns into a story of three desperate couples, and it has a wonderful moment of Tisca Chopra flipping Adil Hussain's tie around, in order to prevent him from being choked by the two pissy husbands.
That single sequence contains more comic dignity than Chhichhore and Dream Girl put together.
The Akshay-Kareena arc is better realised but the etymology of humour follows an all-too-definite pattern.
It's as if an Indian kid of the 1990s, raised on a steady diet of American Sitcoms, has tried to take the sensibility of those sitcoms and mate it with Karan Johar's dharma of making everything in a movie, intelligible to every person on the 'Bihar to Birmingham spectrum.'
This means that all the jokes kind of work; and then, in trying to explain themselves, they stop working.
For instance, the initial bits in the Kareena and Akshay section, about her turning sex into just an inlet for making babies and him unable to see the logic behind this mechanised routine, is filled with quick cuts and fast trading of insults. This design, by and large, works, and is mildly funny also.
But then, all of a sudden, a bedroom lingo or an IVF terminology is expanded upon, with an intention of making it comprehensible to everyone in a movie theatre, and the back-and-forth turns unbecoming for such a sophisticated couple.
Also, remember how in a Dharma movie of yore, they would pipe in an 'Oh yeah' or an 'Oh wow' every time a raunchy Lillete Dubey or a bosomy Archana Puran Singh appeared on screen?
In Good Newwz, you get the same vocal disclaimers being relived every time the camera cuts to a board outside a Volkswagen car showroom or when it cuts to the marketing poster inside Adil Hussain's IVF Hospital. I tried psychoanalyzing this odd choice of juxtaposition, and it seems to me that 'fruits of consumerism' may have, in this decade, replaced 'free women' as elements worth swooning over.
I can offer more nitpicking but there's nonetheless an improvisatory quality about the Akshay-Kareena section which is where you would get your ticket money's worth.
Akshay Kumar plays Varun as a man filled with inappropriate questions and characterised by a distinct lack of cant.
For all his nauseous attempts at portraying the patriot, Akshay has become, at least in my estimation, very good at comedy (I thought his gleefully amoral prince in Housefull 4 was a force of nature). Perhaps, if you keep yelling in Priyadarshan's movies for long enough, your timing does get a boost.
A looser, more unbound comic actor Akshay Kumar may have become but it's the actress who plays his wife, who pulls this whole enterprise together.
Beset by a Princess Syndrome in the past, Kareena Kapoor reigns over this pandemonium like a stately queen.
She gets neither her scepter nor her crown, but she can light a torch by her mere presence, and boy, does she show the way.
Rediff Rating:

---
Sreehari Nair wishes to write about that which is in the cultural air but absent from trending lists. He can be reached at sreeharin@rediff-inc.com
---