Deepika Padukone embodies to perfection the Gehraiyaan in the title, applauds Sukanya Verma.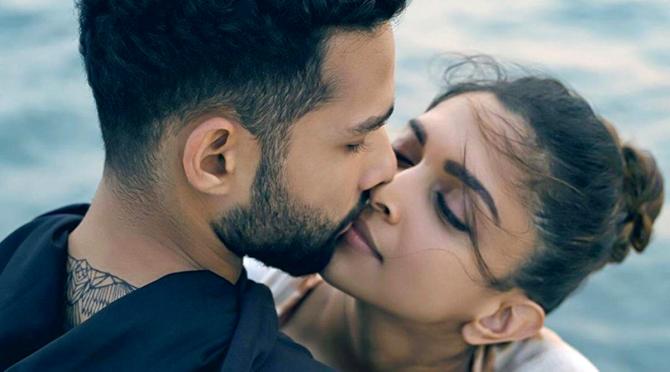 Parents as damaging influences is a recurring motif in Shakun Batra's movies.
Though upbringing is never the focus of the film-maker's storytelling, his characters behave the way they do because of the choices their parents made at a formative stage.
In Ek Main Aur Ekk Tu, Imran Khan's controlling, perfectionist parents nip his individuality in the bud.
In Kapoor & Sons, parents playing favourites create an atmosphere of pretence and resentment.
In Gehraiyaan, a daughter's deep-rooted insecurities and anxieties stem from depressing memories of her parents in an unhappy relationship.
But the question playing on Batra's mind is can one start over from scratch?
His spiffy new drama draws a full circle to that end in a moody, muddled and intensely intimate exploration of adult urban relationships.
On the sly, he also studies affluence as a catalyst that shifts its goals from aspirational and empowering to plain avarice.
What unfurls in Gehraiyaan, co-written by Ayesha DeVitre, Sumit Roy, Yash Sahai, is a dark, sexy game of existentialism and morality.
Cousins Alisha (Deepika Padukone) and Tia (Ananya Pandey) reconnect after eight long years when the latter arrives in town with her fiancé Zain (Siddhant Chaturvedi) and invites Alisha on a yacht trip to her plush Alibag villa.
Alisha's live-in companion and an inseparable friend of the sisters since childhood, Karan (Dhairya Karwa) is part of this coterie.
The girls address each other casually -- Alisha is Al, Tia is Ti -- but an invisible wall of class and cooled-off family ties stands between them that neither can cross over.
Not even the serene sound of waves can drown out the initial awkwardness enveloping the quartet where one couple stands in awe at the splendours of big money while another flaunts it away nonchalantly.
Sea-facing view, private pool, manicured gardens and state of art rooms, Tia's getaway home is stuff of real estate fantasies.
A nostalgic Alisha surveys it from a cautious distance, not a single emotion escapes her proud eyes.
What seems like standard character detailing are precious clues into the bigger picture Batra has in mind.
Luxury enjoys a powerful presence in Zoya Akhtar's cinema too, but Batra's gaze is distinctly cynical. For all the posh and gloss (gorgeously shot by Kaushal Shah), there's a heavy price to be paid for lifestyle and big stakes when pitted against human emotions and vagaries.
While heiress Tia is all about the good life, yoga instructor Alisha is struggling over bills, seeking funders for her training app and nagging her slack partner to finish his novel.
Karan and Alisha are in an exhausted, exasperated phase of their romantic relationship.
He's quit a 'soul sucking' job to follow his literary dreams.
She is tired of being the responsible one and taking care of all the men in her life.
On the other hand, charismatic, confident Zain's none too pleased about Tia's forever-on-Facetime mum's curt reminders about her family's role in his success from nobody to nouveau riche.
All the more reckless for it, Zain is drawn towards Alisha.
She, too, needs a release more than ever.
People like to be around people who make them feel valued.
She agrees to fix his back. He offers to get her app in business.
Alisha's distant behaviour towards her dad (Naseeruddin Shah) finds resonance in Zain's strained ties with his father.
It's not all daddy issues though.
Every time these two are in a room, sparks are dying to fly.
Gehraiyaan has much more explosion in mind.
Alisha and Zain's sexual energy hits the roof, burns it down no soon they decide to cross the line.
Intimacy director Dar Gai doesn't do anything off-the-wall in the love scenes. There's nothing kinky on display if that's what the credit communicated to a mistaken few.
What she does is get her actors to open up in ways that makes their carnal passions appear more organic than ever for a Hindi film. May this be no exception but the norm.
Adultery is one choice, but what if fate has darker challenges in mind.
Gehraiyaan takes a sublimely sinister route full of unexpected twists and turns that evoke George Stevens's A Place in the Sun whose imprints Woody Allen's Match Point too carried.
What distinguishes Gehraiyaan from Allen's uncharacteristically devious thriller is the moral hesitation at play as well as an opportunity for karmic payback.
This is a brilliant attribute of Shakun Batra.
He can internalise his cinematic influences and come up with something entirely his own and Gehraiyaan is his most assured effort.
I like how he uses spaces to tell his story.
The yacht, the villa, the Taj suite overlooking Gateway, the beach, the bedrooms, the studio, the offices -- some pawns, some privy to its inhabitants's lives. Like the hyper, confused, chaotic tone of Zain injuring his finger in Alisha's corridor scene is brief but deserves a place next to the famous plumber fight scene in Kapoor & Sons.
I like how he uses technology to capture the nature of affection in the age of social media.
But I especially love how he uses its advancement like message sync to trigger an atmosphere of threat.
When such a sound mind calls the shots, his actors are bound to shine.
Although I found the Karan character getting the short end of the stick (also for a writer, he's awfully incurious), Dhairya Karwa's unassuming presence works.
Ananya Panday's fragility hits hard when she starts sensing the rot in her relationship.
Naseeruddin Shah doesn't have many scenes, but his heft and one scene-stealing line -- We are more than our mistakes -- does the needful.
Siddhant's cocksure side isn't surprising. What is new is how compelling he is as a man fighting tooth and nail to keep it all together. It's a tricky part that nobody knows where he is going with till the end but the actor doesn't let us make up our minds. And that's commendable.
Deepika Padukone found her groove a while ago. But when a performance feels like a person, it's artistry at an altogether different level.
As Alisha, she's raw yet polished, fierce yet soft, volatile yet suppressed, a woman willing to flex herself in every sense of the word.
She embodies to perfection the Gehraiyaan in the title.
Gehraiyaan streams on Amazon Prime Video.
Rediff Rating: