The fatal flaw of Fast X is that it's trying to be smarter than it really is and the result is a convoluted mess with nothing novel on display, points out Mayur Sanap.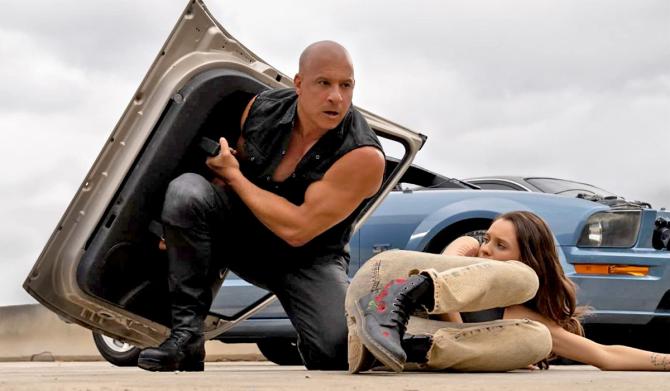 Earlier in Fast X, the eleventh film in the Fast & Furious series, which also includes the 2019 spin-off Hobbs and Shaw, a character says 'It is like a cult with cars.' And that's exactly what it is.
In over two decades of its existence, this franchise, which kicked off as street car racing fantasia in 2001, has turned into a family saga, with some really big names attached to star in it.
With every new sequel, the film series became progressively ridiculous taking the action set pieces to dizzying heights, with no respect for physics or logic.
Keeping up with previous instalments, Fast X revs up its engines to the road of absurdity and marks yet another dumb entry in this seemingly never ending saga.
This latest film introduces new villain Dante (Jason Momoa) who is out to seek revenge from Dominic Toretto (Vin Diesel) after he stole his family's fortune in 2011's Fast Five, killing Dante's father, the drug baron, in the ensuing car chase.
Dante has spent years hatching a plot to tear Dom's family 'piece by piece' and he will stop at nothing.
To be fair, things are really fast and really furious in this one, with emotional stakes at all-time high for Dominic and gang. But the film just leaps from one setup to another, unbothered about any cohesiveness. Like as usual, it is more about stunts than story.
Fast X, in that sense, goes through the same issues of current Marvel films, where it's so engulfed in its own glory that it forgets what made it so special in the first place.
This film feels like a bizarre medley of random scenes put into one. Everything is cranked up to douze -- vehicular exploits, explosions, hand-to-hand combat, and the CGI. Unlike the James Bond and Mission Impossible films, where we know somebody is actually behind the painstaking stunts, here, we are exposed to plenty of CGI-enhanced action which barely makes things any exciting. Even the special effects could have been much better when you see the budget they had.
The fatal flaw of Fast X is that it's trying to be smarter than it really is and the result is a convoluted mess with nothing novel at display.
Diesel's Dominic is presented as some sort of superhuman, there is just no sense of any danger for him because we know he can get away from any tricky situation with his baffling antics. We have scenes where he plunges a car onto narrow streets, highways, dam spillways, out of a plane, without a single scratch on his body and vehicle.
As a new entrant to the series, Momoa gets the best lines and he is clearly having a ball in the role of an unhinged, vengeful, baddie. For everybody else, they make a barely-there appearance, which includes the likes of Brie Larson, Charlize Theron, and Helen Mirren.
Of course, for the fanbase that made this one of the biggest movie franchises in the world, it delivers on the expectations of campy fun. But at its core, Fast X is really as dumb as it gets.
And if that cliffhanger at the end is anything to go by, we are not done with these films yet. They are only going to be more ridiculous from this point.
Fast X Review Rediff Rating: