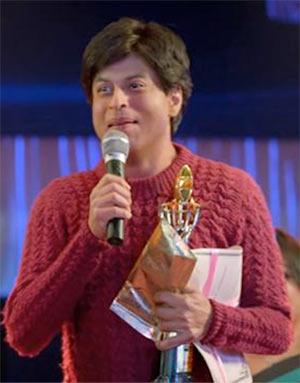 Bring it on, Shah Rukh, raves Raja Sen.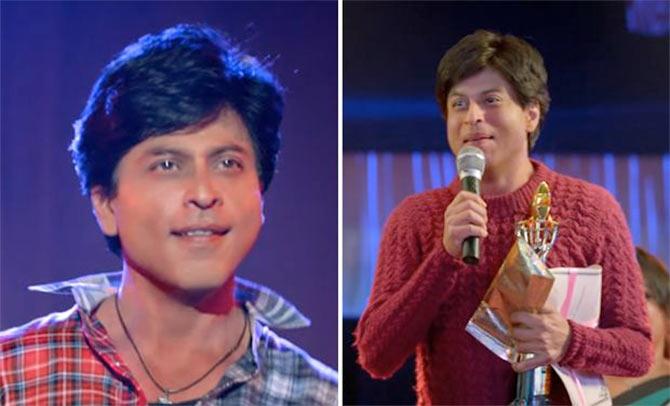 What do you get the superstar who has everything?
Happy 50th birthday, Shah Rukh Khan.
It's been quite an innings, and there's no better way to celebrate it than with a good film.
Because, megastar, you know it's been awhile. Next year will mark 10 years since you were actually in a really good movie -- 10 years since Chak De! India -- and we'd all like to see you shine like you can.
Fan, directed by Maneesh Sharma, looks like it may just be the ticket.
The film is about an obsessed movie fan, the kind of k-k-k-Kiran level obsessive who is the reason our movie stars reside on their unreasonably high pedestals.
That weird, wonderful filmi passion is a subject waiting to be properly explored and could potentially be truly fascinating, and after the way Sharma struck gold with his debut Band Baaja Baaraat, he could do very well here.
Thus I've been intrigued about Fan ever since I heard what it was about. (Cautiously intrigued, as anyone who has watched Chennai Express and Happy New Year would be, but intrigued for sure.)
What I wasn't prepared for, however, was how a moment in the new Fan trailer would blow my mind.
The trailer, made up mostly of archival SRK footage, is a classic teaser in the best sense.
Khan talks about being a fan of himself even as the superstar version charms us with old clips.
It's all cool -- and holds the potential to be a fantastic meta-take on narcissism itself -- but that's not the best bit.
No, the best bit is when we see Shah Rukh Fan. Someone who looks like the real guy but is fuzzy enough around the ages.
A duplicate. A lookalike, not a doppelgänger.
This Khan looks familiar but not, and young and earnest and... And I can't remember the last time prosthetics made me so childishly happy.
Bring it on, Maneesh.
Bring it on, Shah Rukh.
Thank you for bringing the fan in me alive with that one reveal.
What do you get the superstar who has everything? A trailer that would make Aamir Khan jealous is one helluva start.