The Fabulous Lives of Bollywood Wives is a cringe fest that you can't ignore even if you want to, feels Namrata Thakker.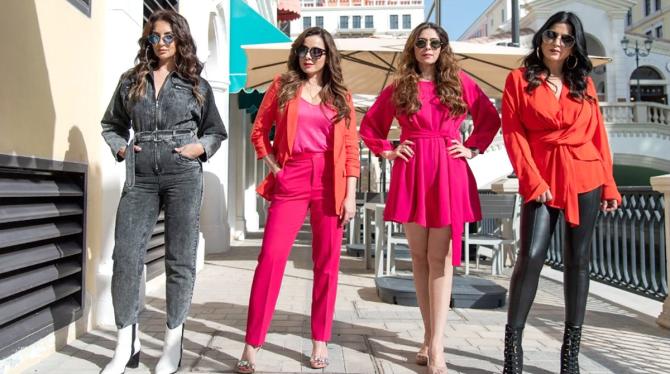 Netflix's original series Fabulous Lives of Bollywood Wives, which is a mix of Keeping Up With Kardashians and Sex in the City 2, belongs in the category of 'it's so bad that it's good'.
It's a reality show which revolves around four supposedly BFFs -- former actress and jewellery designer Neelam Kothari Soni (who is married to actor Sameer Soni), fashion designer Seema Khan (who is married to actor-producer Sohail Khan), Maheep Kapoor (who is married to actor Sanjay Kapoor) and Bhavana Pandey (who is married to actor Chunkey Pandey).
The eight episode show is about these star wives who are rich, glamorous and almost famous. Their husbands who have cameos in the show.
From attending the prestigious La Bal event in Paris to going on a girls's trip to Doha, the show has Karan Johar written all over it.
There is never a time when these ladies aren't dressed from head-to-toe, including when they go for a beach clean-up.
The show focuses on their friendship and a bit about their professional lives.
While Neelam is confused about making an acting comeback, Bhavana is starting a clothing line.
Seema finally has time for work as her elder son Nirvan is away studying abroad.
Maheep has a jewellery line, but she's too obsessed with her kids, especially daughter Shanaya who is Bollywood ready. Mommy Maheep is worried about her child getting trolled and attacked.
Though it is a reality show, Fabulous Lives of Bollywood Wives seems too scripted.
Also, the bonding between the four BFFs doesn't come across too strong despite the fact that they have known each other for 25 years.
Maheep is straightforward and doesn't mind using cuss words in every sentence.
Bhavana has too many superstitions and Neelam's accent is hilarious.
Seema is the baby in the group and quite a drama queen.
Of the four, Maheep stands out for being real and just as she is.
Having said that, her husband Sanjay steals the show even though he makes a tiny appearance.
He is funny, relatable and so not pretentious.
Quite a few celebs make appearances in the show -- Arjun Kapoor and Janhvi Kapoor (Maheep's nephew and niece), Malaika Arora (Arjun's partner), Raveena Tandon, Ananya Panday (Bhavna's daughter), Gauri Khan and Shah Rukh Khan.
Karan appears a few times too, but he is there just to create more drama and cat fights.
Yes, the ladies fight only because of Mr Johar. And that's why the fight looks scripted and forced.
When these girls go on a trip to Doha, it seems more like an expensive tourism advertisement and a desi rip-off of Sex in the City 2.
As if this isn't enough to make you cringe, the finale episode is something else together.
From the four wives, we move onto Gauri Khan who throws a party in honour of her friendship with Maheep, Seema, Bhavana and Neelam. Quite unnecessary but when you are competing with the Kardashians, you have to go all out, right?
Suddenly, the spotlight is on Gauri and her superstar hubby, which appears bizarre.
Also, Karan gets carried away with his fascination for SRK and ends up showing him as some sort of demigod.
Overall, The Fabulous Lives of Bollywood Wives is a cringe fest that you can't ignore even if you want to.
So watch it, amuse yourself, laugh a little and be done with it.
Rediff Rating: